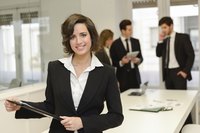 There are many critical issues faced by management in the modern global economy. One of the most critical issues is that of maintaining a sustainable competitive advantage. Managers must make decisions designed to position their organization above others within the industry. This can be a complex issue that is affected by several critical issues that exist within every organization.
Corporate Culture
Creating an optimal corporate culture is vital to the success of any organization. Companies like Trader Joe's have even managed to become successful simply by creating a culture so innovative it is the culture itself that sets the business apart from others within the industry. However, even traditional organizations are impacted by corporate culture. A negative culture stifles innovation and breeds fear and resentment within the ranks, which affects job satisfaction, employee retention and productivity. It is essential for management to create a culture in which employees at all levels feel comfortable sharing their ideas and issues.
Conflicting Communication Styles
Every individual has his own communication style. No matter what a manager's own individual style, he must communicate effectively with others who will often have a conflicting style. It is essential for managers to understand their own style and to flex that style when necessary to ensure they are communicating effectively with employees at all levels.
Organizational Direction
Members of management are typically the decision makers within the organization, and as such they determine the direction the organization will take. Management can either maintain the status quo or they can provide the impetus for change and drive innovation within the organization. Managers plan and organize resources. They determine the specific direction the organization must take to achieve success and must make the decisions required to make that happen.
Strategies
Managers in the modern business world typically use strategic management to combat most of the critical issues facing management today. Strategic management is a deliberate decision-making process used to define organizational direction and implement the necessary policies and procedures to move the organization in the desired direction. The strategic management process begins with a comprehensive and concise mission statement that determines the specific direction, followed by the implementation of processes designed to align the day-to-day activities of the organization with its mission.