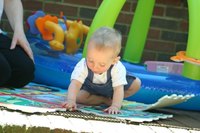 Whether you are planning to open a nursery school or looking for one to send your child to, checking equipment used in nursery schools is important to assure child safety. There are several types of professional equipment used in nursery schools that should meet local and government safety regulations. Since nursery schools serve infants to kindergarten age, it is imperative that the equipment used functions properly and is age appropriate. Aside from providing proper equipment, check to see if enough equipment is on hand to make a child's stay stimulating and fun.
Recycled
A suggestion for the use of upholstered furniture by the U.S. General Service Administration includes recycled fiber material. Beverage containers recycled for use in furniture are a good choice for durability. Playground equipment created from recycled plastics offers smooth surfaces that don't crack or splinter. The lightweight plastic material avoids crushing injuries as opposed to heavier materials like wood and steel. Shredded tires make a safe and durable recycled playground surface over concrete or asphalt.
Age Appropriate
Cribs, swings, strollers, high chairs, bassinets, jumping chairs, are all equipment used for infants and toddlers but not all are appropriate for a two-month-old infant. The U.S. Consumer Product Safety Commission regulates equipment used for children and identifies appropriate age use for individual products. It also reports on recalled products and hazards found in the use of certain products. Day care centers are responsible for knowing the regulations and maintain proper use of the equipment. Sectioning the school by age allows for easier containment of equipment.
Indoor
Equipment utilized indoors stimulates creative activities such as block building, easels for finger-painting, tables and chairs for working with clay, puzzles, and drawing. Tables and chairs require sizing to accommodate children up to the age five. Plastic equipment designed to look like kitchens and workbenches allow children to role play.
Equipment can be used to maintain order such as cubicles that children hang their coats and hats in. Rugs play an important part in a day care because it is usually the common gathering place. Story and nap time begin on the rug. Mats are used for resting during nap time.
Outdoor
Playground equipment should offer creative and challenging play. Jungle gyms, slides, tire swings, wagons and bikes are some of the equipment needed for a productive play area. Playhouses, picnic tables, sand boxes, and balancing equipment complete a safe, fenced in play area. The U.S. Consumer Product Safety Commission recommends plastic material for most playground equipment.