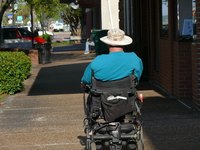 Many education programs exist to help Social Security disability recipients as well as those who receive Supplemental Security Income. Programs focus on providing workable transition assistance that enables the disabled to find gainful employment. Other programs provide educational opportunities. Still others focus on disability laws and rights on the international stage.
Adults
Adult Social Security disability recipients may find assistance through the 103 Work Incentives Planning and Assistance projects operating throughout the country. Every WIPA office employs a staff of community work incentive coordinators who provide incentives and assistance for the disabled, including locating programs at the federal or state level that provide training and education for jobs geared to the disabled individual's capabilities. All Social Security disability beneficiaries qualify for WIPA intervention and assistance.
Youth
Supplemental Security Income (SSI) recipients include many disabled children in low-income situations. The Social Security Administration classifies those recipients who reach the age of 18 as Youth in Transition. Upon reaching their 18th birthday, the SSI recipients receive a Ticket to Work certificate that makes them eligible for specialized employment services. After receiving the ticket they may visit the Employment Network of their choice where trained personnel help establish long-term goals. There the transitional individuals will be directed to vocational rehabilitative services and other appropriate resources that help them train for and find gainful employment.
Students
Students with disabilities may access information provided by National Center on Secondary Education and Transition to find out about opportunities designed specifically with the disabled student in mind. A variety of programs available through the organization provide information about secondary education and transitional periods for students with disabilities. The students are also provided with access to programs geared to assisting them in achieving success outside the halls of academia.
Overseas Study
A little know program administered by Mobility International and sponsored by the U.S. Department of State allows short-term international study for people with disabilities. For 40 years the organization has worked with over 100 countries, focusing on development and education of the disabled. Through the international exchange, participants learn about the global community and how to pursue a variety of opportunities both educational and commercial in nature. Susan Sygall, CEO and co-founder of Mobility International, operates the organization, which consists of more than 2,000 students and professionals, from the seat of her wheelchair.