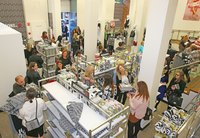 Direct and indirect sales strategies enable companies to serve their customers in the most efficient and cost-effective way. Direct sales organizations hire representatives to sell their products or services, or sell them to customers via a website. Companies operating an indirect sales strategy market their products through intermediaries such as wholesalers, distributors or retailers who may sell products from other companies, including competitors
Geographical Coverage
Companies may plan their sales strategy on geographical considerations. A company with a small sales team would find it difficult to cover a large territory and maintain regular direct contact with all customers. By adopting an indirect sales strategy and appointing a network of distributors covering different states or the entire country, a company can reach a wider geographical market and sell to a larger customer base.
Product Complexity
Product complexity can determine sales strategy. Companies selling products and services such as information systems or consultancy that require demonstration or in-depth discussions with customers typically operate a direct sales strategy. Representatives receive detailed product training, enabling them to provide expert advice to customers. Commodity products such as foods or industrial supplies require less product knowledge and are suitable for an indirect sales strategy.
Customer Control
A direct sales strategy gives companies greater control over their customers. Representatives provide a personal service to customers and maintain regular contact through visits, phone calls and e-mail. Companies also may appoint key account managers to deal with their largest and most important customers and ensure they receive priority service. When companies operate an indirect sales strategy, they do not have a direct relationship with customers and depend on the quality of service provided by their channel partners.
Building Sales
Companies that want to increase sales must adopt different programs for direct and indirect channels. A direct sales organization motivates representatives through incentive schemes or bonus payments for achieving or exceeding sales targets, Companies selling through an indirect channel must motivate distributors and retailers to give priority to their products, particularly if channel partners market competitors' products. They achieve this through structured incentive programs that offer partners higher levels of remuneration for achieving targets. The programs may also include higher levels of training, marketing or technical support for top-performing channel partners.
Digital Sales Strategy
By offering customers sales via a website, companies can get the benefits of both direct and indirect sales strategies. Online sales enable companies to deal with customers in any part of the country, eliminating the geographical limitations of small sales teams. Companies also can offer their customers facilities such as one-step ordering or electronic invoicing to improve service and increase account control.