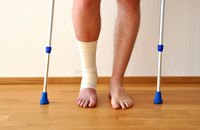 If you've suffered an on-the-job injury, your employer's workers' compensation insurance should provide medical treatment, as well as indemnity benefits for any loss of wages. In addition, disability insurance pays benefits when you suffer an injury or illness that prevents you from working and earning a living. Under some conditions, disability insurance carriers will take workers' comp payments into account, and offset any benefits which an injured worker is owed.
Workers' Compensation Basics
Workers' compensation is a paid to a worker who is temporarily or permanently disabled and suffers a loss of wages. State law provides guidelines on the amount of the payment, which usually is calculated as a percentage of the pre-injury wage. Temporary benefits continue until the authorized doctor releases the injured worker to return to the job. Permanent disability continues for life, and results from a settlement of the workers' compensation claim between the worker and the insurance company.
Disability Insurance Offsets
Disability insurance protects workers from a loss of earnings due to a medical condition. Some states have public disability insurance programs in place. Many employers also offer private disability insurance to their workers, either separately or as an addition to employer-paid health insurance. Disability insurance contracts may allow the insurance company to offset its benefit if a workers' compensation settlement also pays permanent disability benefits. The disability payment is reduced either dollar-for-dollar of the workers' comp payment, or by a percentage of that benefit.
Social Security Disability
Drawing workers' compensation does not prevent a worker from applying for Social Security disability. If the federal agency approves the application, the worker normally is entitled to a monthly benefit that is figured the same way as Social Security retirement. However, Social Security may claim an offset if workers' comp or public disability benefits are coming in as well. The offset does not apply in the case of private disability benefits, Supplemental Security Income payments, or federal veteran's benefits.
Maximum Combined Benefits
By the Social Security rules, work comp benefits and/or public disability, in addition to the Social Security disability benefit, is limited to 80 percent of the worker's pre-injury earnings. Thus, if you earned $2,000 a week prior to the injury, and you are drawing $1,000 a week from workers' compensation, your Social Security disability is limited to $600 a week, even though the latter payment would otherwise be higher based on your Social Security earnings record. This limit also applies to "family benefits" due to spouses and dependents of a disabled worker.