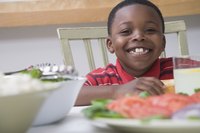 If your child is struggling with weight, you can make positive changes that will benefit you, your child and the rest of your family by instilling healthy habits that last a lifetime. A healthy diet for children under 13 is not about restricting but about teaching how to make better choices. Talk to your pediatrician before making changes to your child's diet.
Calories, Carbs, Protein and Fat
When thinking about a diet for a child, it's important to have a general understanding of calorie needs -- not for counting but to help with calorie balance, which is key for weight control. How many calories your child needs depends on age, gender and activity. Toddlers and younger children, ages 3 to 8 years, need 1,000 to 2,000 calories a day, while older children, ages 9 to 13 years, need 1,400 to 2,600 calories a day.
Children should not be placed on low-carb or low-fat diets. They need a healthy balance of carbs, protein and fat based on the guidelines created by the Institute of Medicine so that they get the nutrients they need for overall good health. That means 45 percent to 65 percent of calories from carbs, 5 percent to 30 percent of calories from protein and 25 percent to 40 percent of calories from fat.
Right Food Choices
Filling your child's diet, along with the rest of the family's, with nutritious foods not only helps ensure adequate intake of essential nutrients, but it also may help keep calories in balance. The foods you need to stay healthy and well are the same foods you should offer to your child.
The right food choices include fruits and vegetables, nuts, seeds, whole grains, fat-free or low-fat milk or healthy milk alternatives such as fortified soy or almond milk, lean meats, poultry, seafood, beans, soy and eggs.
To decrease temptation, stock your kitchen with these healthy foods instead of foods high in fat and sugar, such as soda, cookies, candy, chips and other unhealthy empty calories.
Tips for Healthy Eating
In addition to filling the house with nutritious foods, there are other tips that can help everyone eat better for a healthy weight. Start by offering small portions, and refill only if your child is still hungry. Also, designate meal and snack eating times to limit grazing and eating out of boredom. Plan healthy meals together, and let your child help you with the shopping and preparation to encourage better eating. Additionally, if you're trying to improve eating habits, don't use food as a reward or punishment.
Healthy Kid-Friendly Meals
For breakfast, keep it simple and healthy with whole-grain cereal and fruit and fat-free milk or a milk alternative. Or serve toasted whole-wheat bread with peanut butter, fresh fruit and a nonfat yogurt.
Lunch can be a sandwich with made with whole-wheat bread, lean protein such as turkey, chicken or hummus. Include fresh fruit and cut-up veggies with low-fat dressing for dip and a container of nonfat milk. Mixed greens topped with beans or diced chicken and sliced strawberries, served with whole-grain crackers and a low-fat cheese stick, is a nutritious and filling lunch.
You can't go wrong with spaghetti and meatballs. To up the nutrition, use whole-wheat pasta and turkey or very lean ground meat for your meatballs. Add a salad and cooked veggies to round out the meal. Cheese quesadillas made with corn or whole-wheat tortillas are also a healthy option. Serve them with brown rice and beans, steamed veggies and a glass of nonfat milk.
Healthy grab-and-go snacks include carrot sticks, sliced cucumbers, string cheese, nonfat yogurt, fresh-cut fruit and preportioned snack bags of nuts.
Be Active Together
The Weight-Control Information Network says children need 60 minutes of activity every day. This doesn't have to happen all at once but can be broken up into shorter time intervals.
Set a good example, and be active with your kids. Go for a walk or bike ride together. If stuck inside, have a dance party or set up a fun exercise course with workout stations for jumping jacks or running in place.