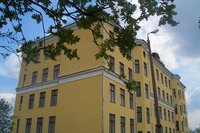 Regulations on evictions are historically a local matter, with various cities and states making the most relevant rules. Some locations are very property-owner friendly, while others are more tenant friendly. The United States Department of Housing and Urban Development, HUD, has its own nationwide regulations on evictions that apply to public housing projects.
Eviction Due to New Owner Purchase
In certain situations, the government has the right to acquire, rehabilitate or demolish your home or business. The government can do this by purchase at fair market value, serve a public purpose and evict you. If you are served with such an eviction notice you should know that you have rights. According to the Uniform Act passed by congress in 1970, you have the right to fair and equitable treatment in the case of eviction.
Uniform Act Provisions
The Uniform Act has four key provisions to protect those being evicted. First, relocation advisory services are required for all tenants to help with the move. Second, there is a minimum of 90 days written notice needed before the eviction takes place. Third, there are reimbursements for all documented moving expenses. Finally, there is a provision to supply a subsidy to the tenants for the difference in pricing if comparable housing is more expensive.
Protections for Property Owners
For property owners being bought out by the government, there are separate regulations. These include an independent appraisal of the value before negotiations begin. The government must provide the owner with a written offer for compensation and a detailed list of what is being bought. Next, payment must be done before ownership transfer. Finally, the government must reimburse the owner for any documentation expenses related to transferring the title.
Local Eviction Requirements
Tenants can be evicted for several reasons including delinquency on rent, bankruptcy, creating a health hazard on the property or other violations of the lease agreement. However, most jurisdictions have important protections for tenants. These include the right to heat, right to running water, right to garbage removal, right to common areas of the building and compliance with all local building codes and health regulations for the area. If the owner does not provide these, or provide a suitable short-term option, the tenant cannot be evicted in most areas.