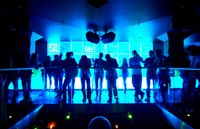 Night club security guards are typically responsible for maintaining order, verifying identification to prevent the entrance of minors, collecting admission fees and protecting the safety of patrons, co-workers and property. Most night club personnel are offered a moderate hourly rate of pay, but in many instances, a night club security guard will find opportunities for additional income and advancement.
National Averages
The U.S. Bureau of Labor Statistics reports that in May of 2008, the median annual salary of a security guard was around $23,460. Though night club security guards were included in the list, no specific information was offered except that security personnel of all types earned between $16,680 and $39,360. However, other online career and salary resources have broken it down to night club guards.
Hourly Wages
The Seattle Times reports that median yearly income for bar and lounge security guards in 2000 was $15,870, which reflects a typical hourly pay rate of about $10 to $15 per hour. The same basic rate applies to night clubs outside of Seattle, as in 2011 this is a fairly standard hourly rate of pay for the position. According to the Job Volume career website, $10 per hour is the median average wage for night club security personnel.
Gratuities And Bonuses
Depending on the policies of your establishment, you may get additional income by way of gratuities. Many high-volume night clubs participate in "tip-pool" programs. Cocktail servers and bartenders contribute a small percentage of their nightly tips to a pool that is distributed among the security and maintenance staff on duty. In other instances, security personnel act as "bar-backs," restocking bar items, tapping kegs and hauling ice buckets to assist busy bartenders. In this scenario, you can expect to receive cash tips directly from the bartender you assist. In high-volume night clubs, security guards acting as bar-backs can often make more than $100 per night in gratuities on top of their hourly pay.
Advancement
Though many night club security guards are often part-time employees pursuing other careers, people who enjoy the nature of the work can advance in the field and increase their income. The California Security Institute reports that in 2010 trained and certified night club security guards could advance to positions in special event security with salaries starting at $37,128 and increasing up to $44,137 after three years. Other advanced night club security positions such as night club & special event security supervisor or director offer salaries between $52,520 and $68,334 per year.