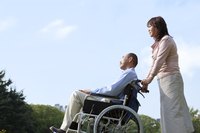 Whether alimony is ordered by the court or paid voluntarily, how it affects your disability payments depends on the type of benefit you receive. Under Social Security, you may qualify for Supplemental Security Income benefits based on disability and financial need or Social Security Disability Insurance based on how many years you worked and paid taxes into the Social Security system.
Effect on Supplemental Security Income Benefits
The Social Security Administration considers alimony payments you receive as part of your countable income when determining your eligibility for SSI disability benefits. If your countable monthly income exceeds the federal benefit rate -- $721 per month for individuals in 2014 -- you will not qualify. If your income falls within SSI's income limits with your alimony included, you still may be eligible.
Effect on Social Security Disability Insurance Benefits
The monthly alimony payments you receive will not affect your SSDI benefits. If you have a child under age 16, or are 62 years old or older and were receiving SSDI benefits based on your spouse's work history when you were married, you should continue receiving benefits. Although alimony doesn't affect SSDI benefits you receive on your former spouse's earnings record, payments will stop if you weren't married for at least 10 years or get remarried.