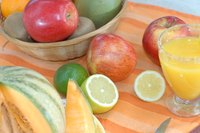 Nutritionists create meal plans for patients with health conditions, teach healthy eating habits and oversee large meal production in facilities such as schools and hospitals. Pennsylvania requires licensure for dietitians or nutritionists to work in the state. The candidate must meet state requirements to obtain a license in Pennsylvania. Licensure is the strictest method for regulating nutritionists. Those without a license may not work in the state as a nutritionist.
Education
Pennsylvania requires a minimum of a bachelor's degree to work in the state as a nutritionist. A nutritionist may obtain a degree in dietetics, food and nutrition or a related area to qualify for a license. According to the Bureau of Labor Statistics, a degree program for nutritionist can include courses such as nutrition, chemistry, biology, biochemistry, physiology, microbiology, statistics, math and social science. Nutritionists planning to work as a self-employed professional may complete business, computer and economics courses.
Experience
In addition to education, the nutritionist must complete 900 hours of experience to qualify for a license. The nutritionist candidate must work under the supervision of a licensed dietitian-nutritionist to meet the requirements of the board. The nutritionist application requires a signed form by the employer to provide proof for the experience requirement.
Examination
Nutritionists must pass an examination for licensure in Pennsylvania. The Commission on Dietetic Registration administers an examination for nutritionists in the state. The state of Pennsylvania requires the candidate to pass the Registration Examination for Registered Dietitians. The examination tests the candidate's knowledge in five areas: nutrition care process and model, food and nutrition sciences, counseling, food service systems, and management. The test contains a minimum of 125 questions.
Continuing Education
Pennsylvania nutritionists must complete continuing education courses to maintain the state license to practice in the state. Nutritionists must complete 30 continuing professional education credits during the two years the license is active. The courses must be related to dietetics and nutrition, but are not designed for the general-public. Nutritionists may meet continuing education requirements by attending seminars, workshops and lectures.