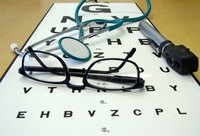 An optometrist is a health professional who treats the patients' eyes. He performs tests to assess a patient's sight and detect any injuries, abnormalities or ocular diseases such as glaucoma and cataract, offers advice about sight problems, prescribes, fits and adjusts spectacles and contact lenses, and refers patients to other health practitioners as required. He will often also manage optometry technicians who assist with eye testing procedures. His monthly salary reflects the skill required of the profession, but may vary depending on certain elements of his employment situation.
Average Monthly Pay
Collating pay data from 26,480 individuals practicing as optometrists across the nation, the Bureau of Labor Statistics (BLS) concluded that the mean monthly salary for the profession was $8,913 as of 2009. This extrapolates to a yearly salary of $106,960. The BLS reports that the median 50 percent of earners in the occupation achieved an average of $8,012 per month, although the lowest-earning 10 percent received an average of only $4,020.
Pay by Industry
The survey conducted by the BLS also showed how monthly salaries for optometrists vary across different spheres of industry. The offices of "other health practitioners" were listed as the industry sector employing the greatest number of optometrists, but the mean monthly salary, $8,588, was considerably lower than some other parts of the health care industry. For example, the offices of physicians were listed as paying optometrists $10,818 a month, outpatient care centers offered an average of $9,621, general medical and surgical hospitals offered $8,898, and positions in health and personal care stores, such as opticians, brought monthly compensation levels of $8,673.
Pay by Location
A further factor impacting an optometrist's monthly salary level is the location in the U.S. where he pursues his career. The BLS reports that different states can offer significant variations in pay. Louisiana tops the table for monthly wages, $11,879, followed by Tennessee, $11,435, and Kansas, $10,785. Oklahoma and Hawaii offer comparable levels of monthly pay, $7,759 and $7,677 respectively. Colorado was among the lowest-paying states, with an average monthly income of $7,220. The BLS listed the area of Houma, Bayou Cane and Thibodaux in Louisiana as the single metropolitan location with the best monthly pay rates for optometrists, $14,419.
Prospects
The BLS expects the job market for optometrists to grow rapidly over forthcoming years. It estimates that during the decade between 2008 and 2018 demand for optometrists will increase by approximately 24 percent. Given that the highest estimate across all occupations in the United States is 13 percent, this represents an excellent rate of growth, particularly as the BLS also projects more vacancies in the field than suitable candidates to fill them. As such, monthly salary levels for optometrists should be extremely competitive in the immediate future.