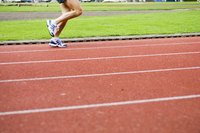 Physical education teachers work with students at both the primary and secondary levels to develop lifelong fitness habits and health awareness. To accomplish these ends, PE teachers have to be able to instruct groups of students in topics including exercise, diet, sports and other related areas. Aspiring physical education teachers must go to a college or university to obtain the proper training for this career. Employment qualifications vary by school district and state, so the precise amount of schooling required will depend on where you want to teach. Most positions call for a similar range of educational prerequisites that suitable candidates will have fulfilled.
Undergraduate Degree
Earning a bachelor's degree ranks as a nearly universal requirement for anyone who wants to pursue a career teaching physical education, according to Education Portal. Undergraduate majors for this line of work include a bachelor of science degree in physical education or a bachelor of education degree with a related PE course of study. Classes within these majors focus on areas such as kinesiology, exercise physiology, health science, first aid, team sports, individual sports, athletic pedagogy and other relevant teaching methods. While not entirely necessary, the U.S. Department of Labor notes that teachers who obtain licensure in more than one subject often have a large advantage when applying for jobs. As such, PE teachers who double-major in another academic subject in addition to physical education will usually be more attractive to employers. In most cases students must also participate in a short-term student-teaching internship prior to graduation. Completion times vary for undergraduate degrees, but it generally takes around four years to earn a bachelor's degree no matter what you major in.
Master's Degree
Most employers only require their physical education teachers to hold a bachelor's degree, but some schools also ask their PE instructors to earn a master of arts in physical education degree. This requirement may need to be fulfilled prior to hiring, or it may be imposed as a rolling requirement that has to fulfilled within a set time limit after a teacher is hired by a school. Physical education instructors who study for a master's degree tend to enhance their teaching skills while increasing their salary potential at the same time. Relatively few physical education teachers take the master's degree route, but those who do can expect at least an extra year or two of schooling.
Obtaining State Certification
Virtually all college programs for physical education majors culminate with some form of state-mandated testing and a follow-up application for a state teaching certificate. Standardized testing requirements vary by state, but the Praxis exam series stands out as one of the most commonly administered services in the United States. After passing the appropriate exams, recent graduates become eligible to apply for an official teaching credential through their state board of education. This entire process can generally be completed within a short period of time from graduation, though limited testing dates may cause some minor delays.
Additional Considerations
It typically takes anywhere from four to six years of schooling at institutions of higher learning to satisfy the standard requirements to become a physical education teacher. Aside from devoting such a lengthy period of time to university studies, teachers in training have to invest many thousands of dollars in tuition fees and other related expenditures. Of course, those who make it over these hurdles will be rewarded for their efforts. The median annual salary for primary and secondary school teachers is around $49,000, according to the U.S. Department of Labor's 2010-11 Occupational Outlook Handbook. Beginning teachers average about $33,000 in their first year, while veteran educators can pull in over $75,000. Physical education teachers may also be able to boost their base salaries by earning bonuses for coaching school sports teams and getting involved in other extracurricular activities.