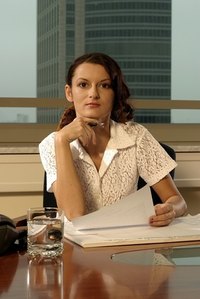 The role of human resource management in a central organization is to streamline operations, maximize resources and act as a strategic partner with head administrators and company officers. Centralizing human resource functions and personnel can be a detriment to one-on-one relationships with employees in the field or in satellite offices to some degree, but can help to maintain consistency across core HR duties, processes and policy making.
Centralized Payroll
Centralizing payroll in a large organization is one role of human resources, which allows cost saving and efficiency measures to be implemented and exercised. When payroll is done at the local level, in individual offices or work sites, time and overall efficiency of the HR department is decreased. The task of payroll reporting to the central administration further adds to time spent and takes away from other human resources duties.
Benefits Management
Central benefits management offers the same time saving and increased efficiency as payroll. In large companies, benefits management can be a full-time job. By streamlining the process of centralization, benefit management staff can often be reduced, better group rates can sometimes be negotiated with insurance carriers because of decreased administration costs, and the HR benefit manager has a better handle on benefits administration and reporting within the organization.
Recruiting
Recruiting is a task that is often centralized in human resources departments for cost savings in advertising, personnel and overall administration. By leveraging buying power, a central human resources department can sometimes negotiate better advertising rates for recruitment ads and develop standardized recruiting, hiring and new-hire administrative processes throughout the company.
Proximity to Corporate Officers
Successful human resource programs partner with the business in what is called "strategic planning." For strategic planning programs to benefit both the HR department, employees and the company, it is helpful that key human resources personnel are in proximity to corporate officers and other decision makers. In a centralized organization, these decision makers often work in the same building as the centralized HR department, facilitating timely face-to-face communication with all involved. This enables policies and decision making to take place in a central location, where they can be rolled out to work sites and district locations as necessary.