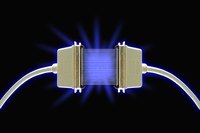 Computer engineers design various types of software including business applications, computer games, operating systems and network control systems. Employment prospects for computer engineers are expected to grow rapidly between 2008 and 2018, according to the Bureau of Labor Statistics. Most employers prefer to hire individuals with a master's degree in computer engineering. Some hire candidates with a bachelor's degree or individuals with a two-year associate degree and some hands-on experience. In 2009 the average annual salary for computer engineers was $90,000, says the BLS.
Undergraduate Degree
Undergraduate students who major in computer engineering receive classroom instruction and practical lab instruction. You learn how to write assembly language programs, develop computer applications, and design independent projects. The program is designed to provide you with a basic foundation in mathematics, science, and electrical and computer engineering. Students who compete the training can find work in technical fields including hardware and software design. Undergraduate course highlights include digital systems, microcomputers, computer networks, and introduction to mobile robotics. Computer engineers with a bachelor's degree earned an average of $60,000 in 2010, according to CNBC, a financial news network.
Graduate Degree
Graduate programs in computer engineering are offered at the master's and doctorate levels. In addition to completing your coursework, as a doctorate student you must conduct independent research and write a thesis under the supervision of a thesis supervisor; graduate students may also be required to satisfy qualifying examinations. Master's students must take foundational courses in computer engineering such as logic design, data structures, probability, and computer organization. Graduate students can specialize in fields like information assurance, architecture and systems, multimedia processing and computer networks. In 2008 computer engineers with advanced degrees or between five to 10 years of work experience earned $80,000, according to the Forbes magazine article "Most Lucrative College Careers."
Certification
Although it's not a requirement, if you obtain your certification in computer engineering it can increase your employment opportunities and professional advancement. Professional organizations in computer engineering offer continuing education and certificate programs in traditional classrooms or through distance learning. Graduates from a computer engineering program can receive their Certified Software Development Associate credentials. Mid-level professionals qualify for Certified Software Development Professional credentials. Certification candidates can register for a CSDA or CSDP credentials, prepare for the qualifying exam, and schedule their exam date online. Employers are encouraged to invest in their workforce by sponsoring certification training for their employees.
Considerations
Computer engineers with extensive work experience and certifications can advance professionally into management positions. Computer engineers with business skills and advanced training are eligible for career opportunities like project manager, information systems manager, or chief information officer. Other job advancement opportunities for computer engineers include consulting roles and system design. Computer engineers who work for large firms can find supervisory roles and lead programs. In 2011 the average salary for computer engineers was $90,000, according to Indeed, a worldwide employment website.