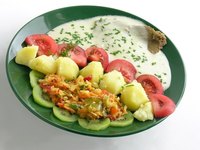 Breakfast, brunch, lunch and dinner can be planned to include all food groups. Planning meals around the Food Pyramid developed by the United States Department of Agriculture (USDA) helps ensure that meals are nutritionally balanced. Well-balanced meals give adults and children the vitamins and minerals necessary for a healthy and active lifestyle. The food groups encompass grains, fruits, meats and beans, vegetables and milk products.
Breakfast
Breakfast is the most important meal of the day, and it's simple to create a meal utilizing all food groups. Start with a glass of tomato juice or vegetable juice, which gives you a vegetable serving. Include a bowl of oatmeal with raisins and walnuts. The oatmeal provides a serving from the grain group, the raisins provide a serving from the fruit group and the walnuts are considered part of the protein food group. Add a glass of low-fat or fat-free milk to satisfy the dairy group, and you're ready to start your day.
Lunch
According to the USDA, one slice of whole-wheat bread or five whole-wheat crackers provide one serving from the Food Pyramid's grain group. Along with this, prepare a spinach salad with cucumbers, tomatoes, carrots and tuna or salmon to cover the vegetable group and the protein group. Add a sweet ending to your lunch with a bowl of yogurt mixed with bananas, strawberries and blueberries, which count as servings from the fruit and dairy food groups.
Dinner
Whole wheat pasta with artichokes, mushrooms, zucchini, mozzarella cheese and sliced chicken create a dinner from the grains, vegetables, milk products and protein groups of the Food Pyramid. To complete this dinner, serve a dish of mixed fruits like strawberries, kiwi, blueberries and pineapple for a complete and nutritious dinner made from all five food groups.
Brunch
If you're a fan of Sunday brunch, begin your meal with a fresh grapefruit or glass of freshly squeezed orange juice from the fruit group. Then, enjoy a Swiss cheese omelet with asparagus and whole-wheat toast, or a spinach or mushroom quiche. The Swiss cheese omelet combines vegetables, dairy and protein while the whole-wheat toast satisfies the grains group. Alternatively, the spinach or mushroom quiche provides servings of vegetables, dairy, protein and grains all in one dish.