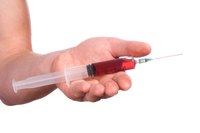 Phlebotomy is not for the faint of heart -- the profession requires puncturing patients' arms with needles and drawing blood samples for various tests. In addition to a strong constitution, phlebotomists must be very good with people. Their work day is spent primarily with patients who may panic or even faint at the sight of blood.
Phlebotomy
Phlebotomy is the science and act of removing blood from the human body for the purposes of testing it. Phlebotomists specialize in drawing blood from the arms of patients to minimize damage to the veins and bruising to the skin. They also ensure accurate patient records and that the prescribed tests are performed on the blood to aid in diagnosis and treatment of medical ailments. Phlebotomists require the least amount of education of all medical technicians and are thus the lowest paid, according to the Bureau of Labor Statistics.
Minnesota Average Salary
The Occupational Employment Statistics service reports that medical and clinical technicians -- the Bureau of Labor Statistics' category under which phlebotomists belong -- made a mean salary of $41,730 a year. This breaks down to an average hourly wage of $20.06. The median salary of the 3,140 medical and clinical technicians, including phlebotomists, working in Minnesota in May 2009 was $20.13 hourly or $41,870 per year.
Metropolitan Comparison
Location almost always affects the average salary and phlebotomists are not an exception to the rule. Those in the Minneapolis-St. Paul metro area averaged $42,120 annually or $20.25 per hour, more than the state average. St. Cloud phlebotomists made a mean of $39,350 per year or $18.92 an hour. The least profitable metro area for phlebotomists was Fargo (which resides on the border of Minnesota and North Dakota) at an average salary of $29,630 a year or $14.25 hourly.
National Comparison
Phlebotomists, labeled as medical and clinical technicians, made a national mean of $37,860 annually or $18.20 hourly. Minnesota phlebotomists averaged $41,730 a year or an hourly rate of $20.06, about 10 percent more than the national average salary for phlebotomists. This makes Minnesota one of the more profitable states in the country for phlebotomists, especially with so many opportunities for advancement with continued medical education.