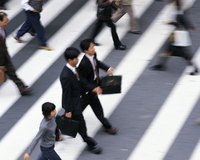 The term Western business etiquette is a bit of a misnomer because there are many Western countries that operate differently from one another. While there are some commonalities, such as the expectation of formal business attire, there are many differences from one country or region to another regarding greetings, communication and table manners. If you're planning to visit another country, it is important to study the particular etiquette of that country.
Dress
Dressing conservatively, in a suit and tie for men or a business suit for women, is considered the norm. In Latin America and European countries, a well-cut suit makes a difference in impression. And women are expected to have their hair done and makeup on, according to the website Travel Etiquette.
Greeting
In the U.S., a handshake and eye contact are the norms for greeting. In Europe, a smile usually accompanies the handshake. In the U.S., people tend to prefer personal space around them, keeping a distance of a foot or more between themselves and people they don't know well. In Mexico and other Latin American countries, personal space is much smaller; people may stand very close to you. The polite thing in such countries is not to reinstate your personal space. In Venezuela and some European countries such as France and Italy, once you've established a relationship, a kiss on the cheek might be expected.
Professional Titles and Business Cards
In the U.S., people introduce one another with professional titles and exchange business cards. Once they get to know one another, they can switch to first names. In Ireland, professional titles are seldom used and are considered arrogant. In Madagascar, the color red has a bad connotation so it is important not to use it on a business card.
Negotiations
Western businesspeople tend to confront conflict directly, putting it "on the table" for discussion. Western businesspeople also tend to learn about the other party's goals by asking about preferences and priorities, expecting the other party to answer honestly and directly. In many Western countries, negotiations are followed by a social occasion -- drinks or dinner. In Columbia, it is considered rude to leave immediately following a business meeting because it indicates a lack of interest in knowing the other party.