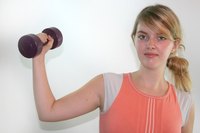 Personal trainers instruct individuals about exercise in gyms, universities, country clubs or client homes. Some certification from a national organization is necessary, which typically requires a high school diploma, certification in cardiopulmonary resuscitation and successful completion of a fitness exam. Certification lasts about two years, after which recertification is needed, primarily by attending continuing education classes.
Basics
Personal trainers make a base hourly rate of $12.06 to $29.70 per hour, with $14.18 to $25.81 per hour for overtime, and $1.19 to $4.86 per hour for tips, according to the PayScale report as of January 2011. However, adding annual bonuses of $205 to $2,068 for meeting employer goals, and commissions of $994 to $10,028 for the sale of services, can boost yearly salaries to $25,832 to $56,96.
Experience
As personal trainers gain more experience, they are exposed to a bigger variety of exercises and a wider base of clients. Thus, pay increases with the passing years, according to PayScale. For example, new trainers make $8.78 to $16.48 per hour, while those with one to four years of work get $10.97 to $23.47. At five to nine years of experience, they make $16.89 to $39.04, and at 10 to 19 years, they receive $20.06 to $49.06. Finally, at 20 years or more, they are paid $19.91 to $49.26.
Employers
Personal trainers who are self-employed earned the widest and highest salary ranges at $22.96 to $50.70 per hour, while those who work for companies get $11.74 to $25.11, according to PayScale. Those in colleges and universities get $9.18 to $16.92, while those in schools and school districts get $8.17 to $19.65. The federal government pays trainers $17 to $25, while state and local jurisdictions offer $9.26 to $27.00.
Location
States with the highest population offer the most potential clients for personal trainers, and thus, the highest salaries, according to PayScale. For example, those in New York earn the most wages at $15.19 to $44.35 per hour, followed by those in the nation's most populous state, California, at $13.28 to $37.50 per hour. As for cities, those in Atlanta earn the most at $11.93 to $50.28 per hour, followed by those in Miami, at $9.83 to $49.58. Next are the nation's most populous cities, with salaries in New York City at $23.42 to $46.09, and those in Los Angeles at $15.42 to $43.16.