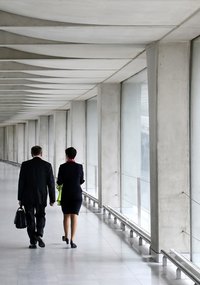 A business network can help you with everything from landing your first job to starting a business or even planning your retirement. Strategically meeting people and then maintaining those relationships can help you to build a strong, resilient professional community. Business networking may seem intimidating at times, but the benefits of regularly investing in professional relationships far outweigh any feelings of awkwardness along the way.
Career Advancement
One of the most obvious benefits of business networking is that of professional advancement. Michael Dulworth, in "The Connect Effect: Building Strong Personal, Professional, and Virtual Networks," explains that networking "gives you access to people." Members of your business network may be able to connect you with job openings in your career field or alert you to an opportunity for advancement. For example, the administrative assistant you meet during your internship may one day make hiring decisions at the same company.
Continued Learning
Business networking can also serve as a source of continued learning and education. Through professional contacts, you can learn about advancements in your field, as well as developments in related areas. You may be able to learn new skills as well through relationships with individuals in your professional network, such as strategies for time management and long-range planning. Dulworth recommends networking with people outside of your career field as that can allow for the development of creative and innovative ideas.
Professional Guidance
Members of your business network can be a rich source of professional guidance. Whether you are facing a college graduation or a career change, your professional contacts can give you insight and advice regarding the career options available to you. For example, you may learn about the daily responsibilities, challenges and rewards of a particular career by connecting with a member of your professional network over lunch or shadowing her one afternoon on the job. These individuals may be able to recommend the best career path from among available options.
Problem Resolution
Business networking can provide opportunities for problem resolution on both a professional and personal level. Your business network, Dulworth explains, serves as "a cadre of 'consultants' you can call on to help you deal with difficult…issues." These individuals can help to connect you with the information and resources that you need to solve a problem. For example, members of your network can recommend everything from professional conferences and events to business contractors and consultants.
Rewarding Relationships
Rewarding relationships may be one of the greatest benefits of business networking. The woman that you befriend in the next office may become a beloved mentor, and the man you strike up a conversation with at a community fundraiser may become a life-long friend. Business networking relationships can help you to continue to learn and grow both professionally and personally. Members of your professional network can stimulate creative ideas and encourage you toward your goals, as well as provide welcome companionship along the way.