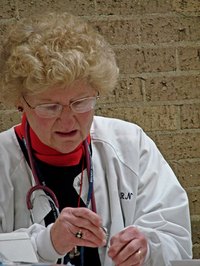 Nursing in Ohio grants a good average salary in a job often considered to be "recession proof" due to the evergreen need for the medical field. Nurses spend their days working with patients, doctors and fellow nurses coordinating the best patient care they can through maintaining patient records, keeping up with the treatment plan and attending to the various individual needs of their patients.
Job Description
Nurses coordinate patient care after the doctor gives a diagnosis and treatment plan. A nurse creates and executes the treatment and care plan including charting, administration of medications and tests as well as informing the patients and their families of proper at home treatment, according to the Bureau of Labor Statistics. Nurses must have a diploma from a nursing program, an associate degree in nursing or a bachelor of science degree in nursing, as well as a license to practice from the state of Ohio.This is earned by passing the NCLEX-RN (National Council Licensure Examination for Registered Nurses).
Ohio Average Salary
A division of the Bureau of Labor Statistics called the Occupational Employment Statistics lists the average wage for nurses nationwide and by state. According to this list, Ohio registered nurses made a mean or average salary of $59,740 a year in May 2009. This equates to an average hourly wage of $28.72 for the 117,870 working registered nurses in Ohio that year.
Metropolitan Comparison
Nursing wages, as in most other professions, vary widely by metropolitan area. Nurses in Ohio experience the same fluctuations, nurses working in Akron average $61,020 a year or $29.34 per hour while their Springfield peers take home an average $52,570 per year or $25.27 hourly. Cleveland ranked as the highest-paying metro area at an average of $62,430 annually or $30.01 per hour.
National Comparison
The Occupational Employment Statistics lists the average national salary of registered nurses as $66,530 a year or $31.99 hourly as of May 2009. This makes Ohio's mean nursing salary of $28.72 an hour or $59,740 annually about 11 percent less than the national average. While nurses in Ohio still make a very good salary, it is not one of the more profitable states to work in for registered nurses.