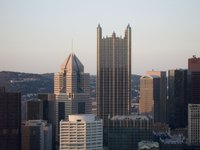 A licensed practical nurse, or LPN, provides direct patient care. She assists patients with daily activities, takes and records vital signs such as blood pressure and temperature, administers oral and injected medications and monitors patients for changes in behavior or physical symptoms. An LPN in Pennsylvania typically makes a similar salary to the national average salary for this occupation, but pay varies depending on the city.
Requirements
All states, including Pennsylvania, require LPNs to be licensed to practice. To become licensed, the prospective nurse must graduate from an approved school program for practical nursing, which usually lasts one year. She also must pass the National Council Licensure Examination-Practical Nurse. Employers typically require LPNs to be certified in cardiopulmonary resuscitation, or CPR.
Salary Range
The median salary for LPNs nationwide as of January 2011 was $41,190, according to Salary.com. Those in the middle 50 percent of the salary scale were making $37,660 to $44,940. The bottom 10 percent of LPN salaries were below $34,460, and the top 10 percent were making more than $48,350.
Comparisons
LPN salaries in Pennsylvania vary by city. Those in Scranton, for instance, had a median annual salary of about $38,450 in January 2010, while LPNs in Philadelphia were earning a median salary close to $44,000 per year. LPNs in Altoona had a median salary of $38,750, in Pittsburgh $39,660, in Erie $39,770 and in Harrisburg $40,610. LPNs in the bottom 10 percent of earnings were making less than $32,170 per year, and those in the top 10 percent were earning at least $51,630 per year. Those in the middle 50 percent of the earnings scale had salaries of $35,150 to $47,990.
Specifics
The job search website Indeed.com lists more than 1,400 jobs for LPNs in Pennsylvania in January 2011. Positions typically are available in nursing homes, long-term care facilities, retirement communities, rehabilitation centers, mental health services centers, hospitals, medical centers and autism schools. Posted hourly pay rates range from $13.74 to $28. Full-time and part-time jobs are available on a variety of shifts, as well as per diem, or as-needed positions. Full-time LPN jobs typically provide health, dental, vision and prescription insurance benefits. They also provide a 401k or other savings plan, an employee assistance program and paid holidays, vacation and personal days. Some employers offer tuition reimbursement for continuing education and reimbursement for uniform purchases.