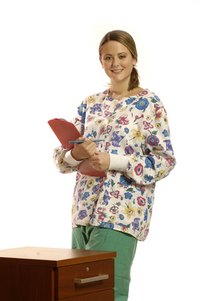 Certified nursing assistants and licensed practical nurses are two vital players in providing daily care to patients in hospitals, nursing homes and other health care facilities. They may perform many of the same duties. In general, however, a licensed practical nurse has more technical and supervisory responsibilities than a CNA.
CNA Duties
CNAs provide daily care for patients. They may feed and bathe them, change their bed linens, deliver messages and help move and transport patients. They may help patients use the restroom and dress, clean patients' rooms and report changes in emotional or physical state to nurses or doctors. They may also take blood pressure, respiration rate and temperature, assist with procedures and move and store equipment.
LPN Duties
A licensed practical nurse may provide many of the same types of daily care for patients as CNAs. In addition, however, they may give injections, monitor catheters and assist doctors and nurses with some procedures and tests. Some LPNs care for new babies and even help deliver them. They may be responsible for patient record keeping, making appointments and other clerical tasks in doctors' offices. Some states allow LPNs to provide care to patients on ventilators, start intravenous fluids and give medications to patients. They may help families learn how to perform basic nursing tasks to care for patients at home. They also may supervise CNAs.
CNA Salary
The average salary of a CNA in the United States is $24,980. Their average hourly wage is $12.01. The median salary for a CNA is $24,040, or $11.56 per hour. Those in the 10th percentile (90 percent earn more) make $17,510, and those in the 90th percentile (10 percent earn more) make $33,970 per year, or $16.33 per hour. CNAs earn the most in the scheduled air transportation industry, where the average salary is $41,720. Alaskan CNAs earn the highest average salary in the U.S. at $32,390, followed by Nevada at $30,970. CNAs working in the San Francisco-San Mateo-Redwood City, California, area earn the highest salary in a metropolitan area in the U.S. at $36,900 per year.
LPN Salary
LPNs earn an average salary of $40,900 per year in the U.S., or $19.66 per hour. The median annual salary is $39,820, or $19.14 per hour, according to the Bureau of Labor Statistics' 2009 estimate. Those in the 10th percentile earn $28,890, or $13.89 per hour. Those in the 90th percentile earn $55,090 per year, or $26.49 per hour. LPNs typically earn the most when they work in the employment services industry, where the average annual salary is $46,190. LPNs working in Connecticut have the highest annual salary ($52,300), followed by LPNs in New Jersey ($50,350). The highest-paying metro area in the U.S. for LPNs is Salinas, California, where the average annual salary is $59,670.