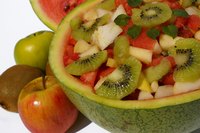 A pediatric dietitian provides practical treatment to infants, children and adolescents who have problems relating to food. She also gives advice about nutrition and health to assist children to make informed choices about the foods they eat. A pediatric dietitian may work in a medical facility diagnosing diet-related complaints, or devise healthy meal plans for attendees of establishments such as schools and community health projects. She must relate scientific information in a way that children can understand and motivate them to make good food choices. A pediatric dietitian earns a salary comparable with other practitioners in the diet and nutrition field.
Average Salary
The latest occupational employment and wage survey published by the U.S. Bureau of Labor Statistics puts the mean salary for a dietitian, regardless of specialism, at $53,230 per year as of May 2009. This translates to a monthly pay packet of $4,436 and an hourly rate of $25.59. The BLS states that the highest-earning 10 percent of individuals in the job received an average of $74,690 per year, while those in the bottom 10 percent earned a mean salary of $33,230. A pediatric dietitian may also receive payments in addition to his basic salary. These may include health insurance, pension contributions and profit sharing. These will be detailed in his specific employment contract.
Salary by Industry
A pediatric dietitian may find employment across a variety of sectors of industry. Her wage will vary depending upon which one she pursues her career in. The U.S. Bureau of Labor Statistics lists positions within federal government agencies as offering average salaries of $68,390. This is higher than those offered by home health care services--$62,050---and medical and diagnostic laboratories--$60,150. General medical and surgical hospitals employ the greatest number of dietitians and are listed at an average yearly salary of $53,560, more than the pay offered by special food services--$49,340---and local government--$49,150.
Salary by Location
The geographical location within the United States that a pediatric dietitian is employed in will also impact his pay packet. The data collated in the 2009 Bureau of Labor Statistics survey shows Maryland and Nevada to have the highest mean salary levels--$64,600 and $63,860, respectively---just ahead of California--$63,610---and Hawaii--$62,750.New York and Delaware offer similar levels of pay--$55,520 and $55,170---as do North Dakota and District of Columbia--$47,910 and $47,690. Among the top-paying metropolitan areas, those in California feature highly. The area including San Jose, Sunnyvale and Santa Clara is listed at $80,470, Modesto offers $69,780, San Francisco has an average of $69,410 and the Santa Rosa-Petaluma locale offers $68,910. In contrast, Altoona in Pennsylvania offers a mean yearly salary of $39,050.
Prospects
The Bureau of Labor Statistics expects the employment market for dietitians to grow at about the same rate as the national average across all professions, estimating it at 9 percent over the decade between 2008 and 2018. The growth in the occupation will be due to a growing population; increasing demand for their services in schools, hospitals and community health programs; compounded by an increasing public awareness and interest in healthy diet and lifestyles. Therefore, pediatric dietitians should see wage levels for their profession remain very competitive.