Adding up a company's total liabilities and dividing the amount by stockholders' equity provides the company's debt-to-equity ratio. In financial analysis, the debt-to-equity ratio measures a company's leverage -- the percentage of capital that is debt. The debt-to-equity ratio is an indicator of a company's ability to fulfill long-term obligations. Typical ratios vary among different types of businesses.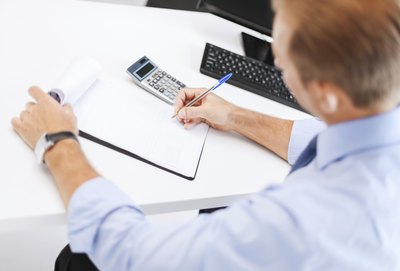 High Ratios
Standard views hold that a debt-to-equity ratio of 1.00 or greater may suggest that a company is at risk of cash flow problems. However, this does not take into consideration the type of industry in which the company conducts business. Some industry averages for debt to equity are simply higher than other industry averages because of the way the companies operate. For example, companies in the financial industry typically have higher debt-to-equity ratios than companies in other industries, because many financial companies take on debt at low interest rates to lend to customers at higher rates, earning profits on the difference.
Preferable Ratios
A debt-to-equity ratio greater than 1.00 can indicate that the company finances operations chiefly with borrowed funds. This does not always point to a problem with capital structure, because some businesses that pay a high tax rate take advantage of tax-deductible loan interest and use debt to their advantage. Thus, a preferable ratio for companies in higher tax brackets may be above 1.00.
Normal Ratios by Industry
To find the normal ratio for a company, it helps to compare it with its competitors. Utility companies might have higher debt-to-equity ratios than cyclical companies -- businesses that produce luxuries -- but both could be considered normal for their business types. In February 2014, the average debt-to-equity ratio for public companies in the energy sector was the lowest among the major industry sectors at 0.34. Companies in the financial sector posted the highest average ratio at 2.68. Other industries with a ratio above 1.00 included services, utilities, consumer discretionary companies and consumer noncyclicals -- companies that produce necessities such as food. On the lower end were technology companies, averaging 0.38, transportation companies at 0.63 and retail at 0.77.
Analyzing Ratios
The debt-to-equity ratio suggests how a company finances its assets. Thus, investors and creditors use the debt-to-equity ratio to gauge how well the business is financially structured. However, a complete analysis of a company takes into consideration a number of additional financial ratios and measures to get a comprehensive picture.