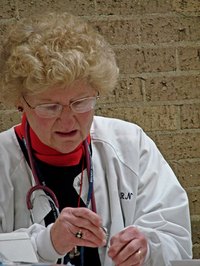 Nurse practitioners (NPs) are registered nurses (RNs) who have completed advanced study -- all nurse practitioners must have a minimum of a master's degree. Nurse practitioners can complete all the tasks RNs do, but nurse practitioners can act as primary or specialty care providers and write prescriptions for medications. The extra study and effort is well worth it, with some nurse practitioners earning 35 percent more than than registered nurses.
Average RN Salary
Because all nurse practitioners are registered nurses, the Bureau of Labor Statistics does not provide a separate salary breakdown for NPs. They simply provide data for the registered nurse industry as a whole. They indicate that, based on 2009 data, registered nurses make an average yearly salary of $66.530. This represents a 0.2 percent increase since 2008. The range for the industry is $43,970 to $93,700.
Nurse Practioner Wages
Because the BLS lumps all registered nurses together, the average salary the BLS provides is not necessarily representative of the salary earned by nurse practitioners alone. The Advance for NPs & PAs website breaks down salaries specifically for nurse practitioners by state. Their data shows that nurse practitioners in most states make salaries between approximately $75,000 and $95,000. This is consistent with data from the Indeed website, which lists the average annual salary as $90,000. According to Advance, a few states such as California give nurse practitioners average yearly salaries that exceed $100,000.
Wages By State
The Bureau of Labor Statistics indicates which states pay the highest salaries to all registered nurses, including NPs. These states include California ($85,080), Massachusetts ($81,780), Hawaii ($80,020), Maryland ($76,330) and Nevada ($74,990), based on 2009 data. The Advance website also provides salary data broken down by state, but they give information only for nurse practitioners. The top-paying states according to Advance based on 2010 data include California ($106,481), Nevada ($97,836), Arizona ($97,242), Alaska ($102,710) and New Jersey ($98,896).
Considerations
In addition to geographical location, other factors influence how much a nurse practitioner earns. The PreMed Guide asserts that nurse practitioners make more money if they have more education and experience, so nurse practitioners who want to better their financial situation should consider taking continuing education credits and becoming certified in more than one specialization. They also point out that, although 80 percent of nurse practitioners work in the hospital setting, those who work outside of the hospital setting bring in higher salaries.