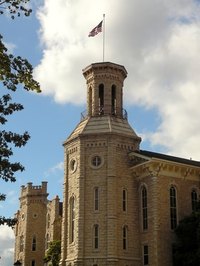 College life can be busy, expensive and stressful. Students sometimes decide that they need to reduce their course loads to a part-time schedule in order to accommodate other priorities. If you're thinking about switching to part time yourself, but are attending college with the help of financial aid from the federal government, you may be wondering if your new schedule will alter your financial aid. The short answer is yes, it probably will. The amount by which your financial aid drops will depend on how "part time" your new enrollment status will be.
Half-Time Cutoff
The Department of Education's Office of Federal Student Aid, or FSA, uses half-time enrollment status as a cutoff point, below which federal financial aid becomes significantly less available. If you have the option, you should try to attend classes half time or more in order to preserve as much of your financial aid as you can. Most colleges use a system that defines full time as at least 12 credits, which would make half time -- or part time -- six credits.
Meaning of Part Time
"Part time" can mean many different things. It could mean that you are reducing your schedule just for one term, and will be attending classes full time otherwise. It could mean that you are switching to evening classes and won't be part of the regular academic environment. It could mean that you are going to be continuously enrolled three-quarters time. FSA treats these various scenarios differently and uses various formulas to calculate how much financial aid you may receive. Your best bet is to talk to your college's financial aid office.
Pell Grants
Pell Grants are the largest source of federal student grants for undergraduates. To determine the value of a Pell award for a part-time course load, FSA first calculates what your award would be if you were attending full time for the school year. FSA then applies a formula to divide that amount by your actual enrollment status and other factors.
If you are attending three-quarters time, you will be eligible for three-quarters of the value of the full award. If you are attending half time, you will be eligible for half the value of the full award. If you are attending less than half time, the underlying calculations to determine your award will be different, but the trend still holds true: You will be eligible for less than half of what you would receive at full time study.
If you are enrolled for half time or more, you can wring extra value out of your Pell Grant by attending school during the summer quarter. For instance, if you qualified for $3,000 in the 2010-2011 year, but only took a three-quarters course load during the main academic year, you might only have received $750 each for autumn, winter and spring quarters, for a total of $2,250, or three-quarters of the value of $3,000. That would leave you with another $750 from your full award to spend on the summer quarter if you wanted to. That's how Pell Grants work: You can get the money so long as you take the credit hours.
Loans
You are only eligible to receive subsidized loans if you are enrolled half time or more. Subsidized loans are loans where the federal government pays the interest on your loan principal while you are still in college. The loans are essentially frozen until you graduate. Be aware that if you already have subsidized loans and drop below half time in your schedule, this can start the clock ticking on your obligation to repay the loans.
You may be able to receive unsubsidized loans at any enrollment status.
Work-Study
Federal Work-Study, or FWS, programs allow college students to work for pay on jobs related to their areas of study. You have to be enrolled half time or more to be eligible for FWS at all, but after meeting this threshold, you can generally qualify for as many paid work-study hours as you would at a full-time enrollment status.