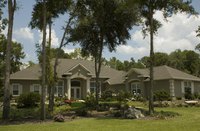 Renting out a house is a good way to earn extra income. In many cases, the rental income is enough to pay for the mortgage and still have money left over. Owning rental property, however, is not without risks. Tenants do not have an ownership interest in your property and might not take care of it the way you would. If you rent out your home, evaluate the amount of homeowners insurance you have on the property. You may need to increase your limits or purchase extra coverage to protect your property against damage or liability exposure.
Liability Exposure
People who own one or more rental properties need extra insurance for the increased liability exposure. Landlords are at risk of being sued simply for owning the property. They have increased liability exposure because they cannot control what goes on at the rented premises. If a tenant participates in dangerous activity, the landlord could be held responsible if someone was injured on the property. An umbrella policy or personal catastrophe policy covers liability claims that exceed the limits of a dwelling or homeowner's insurance policy. An umbrella policy will help eliminate or reduce some of the risk of renting out the home.
Dwelling Policy
A dwelling insurance policy is coverage landlords purchase to protect property rented to tenants. A homeowner's insurance policy is intended for owner-occupied property. If you rent out your home, protect it against structural damage by purchasing a dwelling policy. This policy insures the structure of the home but does not cover any of your tenant's personal belongings so it is generally less expensive than a full homeowner's insurance policy.
Coverage is extended to other structures, such as an attached or detached garage, awnings and sheds. A dwelling policy pays for losses due to fire, burglary, vandalism, weather damage and injuries caused on the property. Tenants must purchase a renter's insurance policy to protect their personal belongings and contents such as furniture, electronic equipment, clothing and kitchen supplies.
Use of Home
You should purchase extra insurance based on how the tenants plan to use your property. If they plan to run a home-based business, find out if customers will visit the property. If they have children or pets, find out how many children and the breed of the pet. If your tenant's child is injured on the premises or if the child has a friend that gets hurt, you could be held responsible for paying for the injuries. Also, if your tenant's pet scratches or bites a guest, the guest can sue both you and the tenant. Purchase enough insurance to cover the amount of risk assumed by renting to a particular tenant.
Considerations
Before renting out your home, make sure your tenant purchases his own renter's insurance policy and gives you a copy with the signed lease. If you allow your tenant to have a pet or run a business in the home, make sure you approve of the nature of the business or breed of pet prior to move-in.