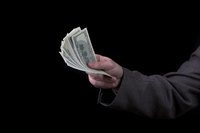 Under federal law, certain basic benefits must be made available to all those who qualify for unemployment insurance. But supplementary benefits vary around the country, because the UI program is administered independently by every state. States also have discretion in determining who is eligible for supplementary as well as basic benefits.
Benefits
The UI program's standard benefit is a weekly cash payment. For all claimants, the amount of payments is based on a percentage of earnings over 52 weeks. But it is possible to supplement the basic 26-week duration of payments. During periods of extremely high unemployment, the federal Extended Benefits program may provide support for an additional 13 weeks. States have the option of funding their own supplementary benefits, which may add another 7 weeks.
Eligibility
In general, UI program benefits are intended for those who became unemployed through no fault of their own, although individuals who quit a job or were fired may still be eligible for support depending on the circumstances. All claimants must disclose a range of personal information and be actively seeking work. Both federal and state laws may impose additional eligibility criteria to qualify for supplementary benefits. For example, applicants must have exhausted all regular benefits.
Claim Requirements
States usually take the initiative in notifying UI recipients when supplementary benefits become available. At any time, an individual in the program can ask the state unemployment office for information. Basic claim requirements are the same for all applicants, whether or not they seek extended benefits. They must inform officials of their dates and places of prior employment and of any new job offers or earnings. Some states also mandate attendance at classes and/or interviews.
Denials
State officials have the authority to deny eligibility for any type of UI benefits. Reasons for denial could include failure to provide and update personal information, to appear at required training or counseling, or to continue seeking new employment. For these and other reasons, individuals can be cut off even after they have started receiving payments. However, all applicants have the right to appeal a denial or discontinuance of either basic or supplementary benefits.