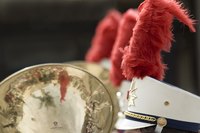 Music trips give high school bands the opportunity to get out of the band room, travel, be immersed in music, and experience something they are passionate about. While traveling with a high school band is limited by the school's budget and often the location of the school, there are many places and events that make a fantastic band trip.
Disney Magic Music Days
With its plethora of sunny beaches and theme parks, Florida is a popular destination for all sorts of tourists and travelers. Luckily for high school bands, Disney Magic Music Days provides an excuse to make the trek to this sunny spot. The event's name is misleading, as every day is a Magic Music Day at Disneyland. Here, high school bands have the excitement of marching in a Disney parade down Main Street for thousands of spectators. The bands may also attend clinics led by impressive instructors. And don't forget about the rides!
Tournament of Roses Parade
Every New Years Day, attention is drawn to Pasadena, California for the famous Tournament of Roses Parade. Along with its breathtaking floats made of flower petals, the parade is renowned for its fantastic high school marching bands. Marching in the six-mile parade is quite a feat: groups must submit a nomination package years in advance. Even if a high school band cannot be in the parade, attending the parade in person can be an exciting learning experience for musical students.
Macy's Thanksgiving Day Parade
The Macy's Thanksgiving Day Parade is an American tradition. Lucky high school bands who have applied years in advance are able to head to the Big Apple to march in this popular televised parade. New York City offers Broadway shows, orchestras, operas and other attractions that are well suited for students who are interested in music, making it ideal for bands who do not participate in the parade. While in town, students can see this iconic city while experiencing a musical adventure.
Mardi Gras Parade
During Mardi Gras, New Orleans buzzes with excitement and glittery beads. The Mardi Gras parades are a fun way for high school bands to see this proud city and perform in an energetic environment. Remember that Mardi Gras in this gulf community can be intense and may be better for well chaperoned, mature students. While in the Big Easy, bands can take advantage of New Orlean's famed jazz scene and learn about the history of this famous city.