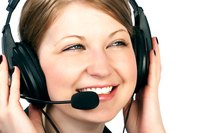 Few sales people or customer service representatives enjoy hearing customers complain, especially if they are not willing to listen or to come to an agreement with the company. But marketers have studied the complaints of customers and unearthed important facts concerning these negative outbursts: they are only symptoms of a greater unrest, with only 10 percent or less of angry customers actually complaining. If the business listens to these customers, it can discover underlying problems with its operation that many other, more quiet customers also experience.
Troubleshooting
First, customer complaints allow a business to troubleshoot its process. Most customer complaints with manufacturers and distributors focus on service aspects of the business. Lengthy shipping times, poor information and rude service cause customers to complain. To marketers, this is like a free survey on what the company needs to improve. Complaints show if the business should invest in better customer training, change suppliers, rethink its transportation system or upgrade its phone and website services. These clues make it easy to focus on improved services in advertising, too.
Product Development
Marketers are also interested in product development. Businesses create a line of products with continually upgraded features or designs, attempting to keep up with customer demand while also impressing consumers. The second class of customer complaints refer directly to problems with products. Maybe the product is low quality, or maybe it has a part that breaks easily. At the worst, these issues may cause embarrassing recalls, but if marketers listen and carry improvements forward to product development, the business can fix issues and earn a reputation for listening to customers.
Service Opportunities
While customer service people can become exasperated with complaining customers, the business sees this as a valuable marketing opportunity. After all, impressing a happy customer is not difficult. Impressing an angry customer requires work, concessions and patience, and many angry customers can be silenced when the business goes out of its way to fix their problems. This can help turn customer complaints into praise from customers who are all the more loyal because the company has shown it really cares.
Dangers of Angry Customers
Customer complaints are also important for a darker reason. If left unchanged, complaining customers can become toxic. With today's technology, it is easy for a dissatisfied customer to post negative product reviews on websites, use social media to tell friends to never use a business, and blog about their bad experiences. This negative marketing will lose the business customers and must be stopped before it can began.