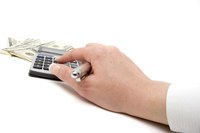 Accountants must have specific skills to be successful in the profession. This is true whether the accountant is working in accounts payable, accounts receivable or both. Although accountants may often work alone in smaller businesses, they must also be able to adjust to teamwork settings, as this may be required in larger corporations.
Team Player vs. Individuality
An accountant must be able to work independently and as part of a team. An accountant may work alone, if she works in a smaller business or supports an entrepreneur in keeping track of finances. An accountant may work as part of a team in a larger organization where the accounting tasks are too much for a single individual. A single person may only be responsible for the accounts receivables in a large corporation.
Communication
Communication is also an important skill for an accountant to have. An accountant must be able to communicate well with individuals who owe the company money for projects, products or services. It is important that the accountant can call consumers and ask for outstanding funds without being too demanding or rude on the phone. There is a fine line between effective and demanding communication. The accountants must also speak with other individuals in the business to ensure that everyone is being honest about their departments' spending and earnings.
Numerical Knowledge
Accounting is all about adding up numbers and keeping track of earnings and spending. An accountant must therefore be comfortable with numbers. The accountant does not have to be a genius, but completing simple math equations in his head rather than using a calculator may be time efficient.
Writing and Reporting
An accountant may often be asked to write reports that outline the company's financial situation at any given time. This can include quarterly reports, annual reports or even budget reports. The accountant must be able to formulate the content clearly and effectively, while presenting statistics and numbers that are clear and well organized.
Attention to Detail
One of the major skills that accountants must have besides being organized is being attentive to small details. A single digit or number can throw off an entire budget for a company, which can be costly. The accountant must be able to identify smaller flaws in the budget or false figures in financial reports or documents. It is the miscalculations offered by the accountant that lead to misrepresentation of the company's finances, which can be harmful to the company and its investors.