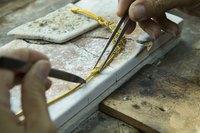 A goldsmith is a technical trade professional who works with gold and other precious metals and stones. He designs original pieces of jewelry and other accessories, creates them by manipulating precious metals and constructing frameworks in which to cast them, and repairs jewelry items for clients as requested. A goldsmith will also offer polishing and finishing services that protect the metals involved. Often a goldsmith will also sell items to clients. His salary may vary according to the elements of his employment.
Average Salary
The U.S. Bureau of Labor Statistics (BLS) placed the mean yearly salary for goldsmiths at $36,620 in its occupational employment and wage data published in May 2009. This translates to a wage of $3,052 per month and an hourly pay rate of $17.60. The BLS also detailed how the top 10 percent of earners in the profession received an average of $57,170, while their counterparts in the lowest 10 percent gained a mean annual wage of $19,080. The median 50 percent received an average of $34,060.
Salary by Employer
The majority of goldsmiths work in jewelry, luggage and leather goods stores. However, as the BLS details, this sector of the industry does not offer the highest salaries. Averaging $38,910 per year, this is below the average salaries offered by specialist coating, engraving and heat treatment services which are listed at $42,860. Other miscellaneous manufacturers offer mean salaries of $34,900, while specialized design services are listed at $29,890.
Salary by Location
A goldsmith's salary level may also be influenced by the geographical location in which he conducts his profession. The BLS lists Connecticut as the highest-paying state, with salaries averaging $53,120 per year. It is followed by Illinois and Idaho, listed at $45,530 and $44,000 respectively. Minnesota and Wisconsin round out the top five states at $43,710 and $42,630 respectively. In contrast South Dakota is listed as offering a mean yearly salary of $30,000 while New Mexico offers $28,380. The BLS reports that the single metropolitan area with the highest average salaries for goldsmiths is Bakersfield, California, at $80,990.
Outlook
The BLS estimates that the employment market for goldsmiths will grow by approximately five percent in the years between 2008 and 2018. Given that the national growth rate across all occupations is expected to be between seven and 13 percent over the same period, the outlook is not particularly bright. The continued growth of imports for jewelry is the primary cause of this slow growth. However, the BLS does expect that more vacancies will created in the profession than there are qualified practitioners to fill them. As such, salaries should remain competitive.