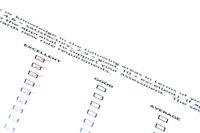 Performance appraisals are typically conducted by administrators within an organization. It is equally essential, however, for administrators, managers and supervisors to regularly be the focus of the performance appraisal process. In some ways, the administrative performance appraisal may be more essential to the success of the organization than that of lower-level employees. It is essential for administrators to undergo regular performance appraisals to ensure their individual objectives are in alignment with the overall objectives of the organization.
Impact
Administrators often supervise other employees in their day-to-day activities. The success of those employees often hinges on the administrator's ability to do her job. For example, employees have long claimed that managers and administrators are responsible for the attitudes of their employees. A 2004 report released by the National Bureau of Economic Research supports the belief of workers that "bad attitudes" are created by poor managers. The administrative performance appraisal is a vital tool in combating this problem.

Performance Measurement
One purpose of the performance appraisal is the measurement of the administrator's current performance level. This is an essential element in determining whether there are gaps between current performance and desired performance. The administrative performance appraisal is also useful in determining the root causes of any overall performance issues that may exist within the administrator's work unit.

Goals
The establishment of goals is another purpose of the administrative performance appraisal. Administrative goals are frequently significant goals, upon which the success of the entire organization rests. An administrator's goals may be the same as his employee's goals. However, the administrator is responsible for overseeing the goals while the workers are responsible for achieving them. The administrative performance appraisal is essential to reviewing individual goals to ensure they are in alignment with organizational goals.
Performance Management
The administrative performance appraisal is typically implemented as part of an overall performance management program. Performance management may be used to develop and improve the performance of an individual employee, a business unit, the organization as a whole, or all of the above. An effective performance management program uses the information gleaned from performance appraisals of both employees and administrators to identify possible areas of improvement and implement employee development programs, which will benefit both the individual and the organization as a whole.