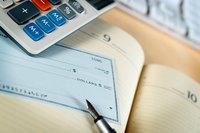 When money gets tight and you can't satisfy everyone, some monthly bills are more important to pay than others. If you don't pay your rent, for example, you could face eviction. The question becomes how late your payment can be before you face serious consequences. In Virginia, as in most states, it depends on the terms of your lease.
Late Fees
Your rent is due on the date stated in your lease. This may be the first, fifth or even 15th of the month. If you don't pay promptly on or before that date, your rent is late. The Virginia state code doesn't set out any hard and fast rules regarding late fees. If your lease specifies when a late fee can be charged and how much it can be, its terms control the situation. If the lease says nothing about late fees, your landlord can't assess them, no matter how late you are.
The Eviction Process
Your landlord is legally entitled to have you removed from your dwelling if you fall behind with rent and make no effort to catch up. However, he can't just knock on your door and tell you to go, and he can't lock you out of the dwelling or turn off your utilities. Virginia evictions must happen through the court system.
Your landlord must first give you written notice, called a pay or quit notice. You have five days from the date you receive it to pay your past-due rent or move out. If you pay the rent, that's the end of it unless you fall behind again. If you don't pay the rent, and if you don't relocate, your landlord can file an unlawful detainer lawsuit to remove you from the property.
Legal Options
You have time to avoid eviction after you're served with a copy of your landlord's unlawful detainer complaint. Under Virginia law, you can pay your rent up to the date the court enters an unlawful detainer judgment against you. This is usually, but not always, the date of the hearing specified in the complaint, so it's a good idea to attend and find out exactly how much time you have. You must also pay your landlord's court costs, legal fees and late fees or other penalties provided for in your lease.
If you can't come up with all the money necessary to avoid eviction before the court date, contact legal aid in your area. The staff can direct you to the proper government agency for rental assistance -- it may vary by county. You have 10 days from the first court date to arrange for help if you qualify and to deliver a written commitment to the court from the agency. This is a redemption tender and if the agency pays the balance for you within the 10 days, you won't be evicted.
Disputes with Your Landlord
You can't withhold rent because your landlord hasn't performed maintenance or repairs on the property. The lease is a contract. You have an obligation to uphold your end of it, regardless of whether your landlord holds up his responsibilities under the terms of the lease. If you're having serious problems with the premises, you can contact your county's health department to request an inspection. If your landlord doesn't cooperate with the inspection, you can complain to the Virginia Attorney General's Office Consumer Affairs Division.