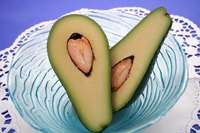 You may know that fruits are a tasty source of fiber and sugar -- but they can also be high in protein. With the exception of mango, cranberry and cherry, all fruits contain some proteins ranging from 0.3 g in an apple to 4 g in an avocado.
High Protein Fruits
Most fresh fruits have less than 2 g protein per serving size. However, there are exceptions. One cup of avocado, for instance, has 4 g of protein, while one cup of concord grapes has 2 g of protein. One cup of loganberries has 2.2 g of protein and one cup of mulberries 2 g of protein.
Fruit Salad or Smoothies
Fruit salads and smoothies are easy to prepare. You can mix loganberries, concord grapes, mulberries and even avocado to create a protein-rich fruit salad. Or throw it all into a blender with a little milk and fruit yogurt to make a tasty smoothie -- you can also add a 1 tsp. of peanut butter for a little more protein kick.
Protein Requirements
It's recommended that 10 to 35 percent of your daily calories come from protein. The following are recommendations in grams per day. Children ages 1 to 3 should have 13 g of protein. And children 4 to 8 should consume 19 g of protein per day. Girls who are 14 to 18 should have 46 g, while boys of the same age group should have 52 g per day. Women ages 19 to 70 and up should have 46 g, while men in the same age group should consume 56 g of protein a day.
Types of Protein
A complete protein source, also called high quality protein, provides all of the essential amino acids. These are animal-based foods such as meat, poultry, fish, milk, eggs and cheese. An incomplete protein source is one that is low in one or more of the essential amino acids. In this case it's necessary to consume complementary proteins -- food sources that have two or more incomplete protein sources that will create sufficient source amounts of the essential amino acids. Rice and dry beans are sources of complementary proteins. Your body can combine complementary proteins that are eaten within the same day so that its not necessary to eat them at the same time.