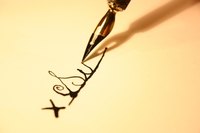 A deed of trust is a legal document that gives a mortgage lender a security interest in the borrower's real estate, which is usually the borrower's home. Most people refer to a deed of trust as a mortgage, although as a technical legal matter a mortgage and a deed of trust are different types of documents. As a practical matter, anybody with an interest in real estate can grant a deed of trust on that interest.
Property Owner
The most common situation for a deed of trust arises when the exclusive owner of a piece of real estate takes out a loan and in exchange grants the lender a lien on the real estate. As the owner of the property, this person has the exclusive right to grant a deed of trust on his ownership interest in the property.
Co-owner
A co-owner of real estate can also sign a deed of trust. It's important to note, however, that the deed of trust only attaches to the co-owner's limited partial interest in the property. This means that the lender under the deed of trust will always be inferior to the other co-owner of the property. But, there is nothing restricting a co-owner from signing a deed of trust on her interest in the property.
Power of Attorney
A common legal document called a "power of attorney" can enable someone who is not a property owner to sign a deed of trust on behalf of the property owner. Under a power of attorney the attorney-in-fact is a person who has legal authority to sign on behalf of the principal. The principal is the property owner. Most states require that the signed power of attorney must be recorded with a deed of trust, if that attorney-in-fact signs the deed of trust.
Lease Tenant
You can also sign a deed of trust if you have a leasehold interest in real estate. It is common for businesses, and some residents, to enter into long-term lease agreements on the property that they occupy. Some lenders will make a mortgage loan based on a leasehold deed of trust. The lender's security interest is limited to the value of the lease on the property and is always subject to the landlord's right in the property.