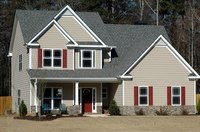 Whether it is cheaper to rent or buy a house will depend on a number of factors. Though owning a home seems like a good financial decision, owning a house is a large financial responsibility with numerous costs to purchase, maintain and sell. Prospective home owners should carefully consider their personal and financial situation before deciding to buy or rent a home.
Length of Stay
People that are planning to move in the next five years will often find that it is cheaper to rent. Though homes typically appreciate in value over time, standard appreciation rates will not offset the costs of buying and selling a home unless the homeowner owns the house for longer than five years. One of the largest costs of buying and selling a home is the real estate agent fees, which is typically 5 to 6 percent of the purchase price. An agent will charge this when and selling the home. Mortgage fees and closing costs will also add to the costs of buying and selling a home.
Rent Ratio
Rent ratio determines the spread between the selling and renting prices of homes. To determine rent ratio, divide the price of a home with the yearly rental cost of a comparable home. For example, if a three bedroom house costs $150,000 to buy and $15,000 per year to rent, the rent ratio would be 10. Experts do not agree on the exact ratio score that indicates when it is cheaper to buy or rent. However, the general consensus is around 15 or 20, with higher scores indicating that it is cheaper to rent and lower scores indicating it is cheater to buy.
Life Uncertainty
People who may have significant lifestyle changes in the near future may find it cheaper to rent until the changes occur or become certain. Young married couples may want to live in the downtown area of a large city, but may want to move if they have children. Aging parents may also require children to live in a certain area or the parent may need to move in with the child. Persons who may switch careers in the near future may also want to move to capitalize on distant job prospects. Homeowners who must move quickly will likely have to accept less than market value for their home, which can result in a significant financial loss.
Other Considerations
The costs of maintenance and repairs of a home may make home ownership too expensive for some people. This is especially true if homeowners will pay others to mow the grass and complete other routine tasks. Persons that need only a small amount of space will likely find a small apartment to be cheaper than owning virtually any house. People who want to live in an area with expensive real estate, such as a beach or resort town, may find renting an apartment or condo far less expensive than buying a house.