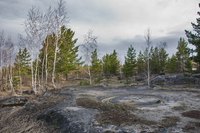 Wildlife officers, sometimes known as fish and game wardens, often deal with conflict. For example, they might trap or transport animals that are posing a threat to humans. They also enforce laws that protect animals and their habitat, such as hunting laws. Most wildlife officers are drawn to the job by their love of nature or animals, combined with an interest in law enforcement.
Education
Having a background in natural resources will help a prospective wildlife officer get a job. An understanding of the natural environment helps her to better monitor it. Different agencies have different education requirements, but they generally prefer applicants to have completed at least some coursework in the subject.
Confidence
Working with animals requires confidence, whether dealing with small ones or large predators like bears and cougars. Remaining calm and confident helps to keep the animals calmer and lets the officer react wisely. They also must maintain confidence when dealing with people, giving citations or making arrests as need be.
Critical Thinking
Wildlife conservation officers might receive numerous calls from the public regarding animal issues, and they need to decide which situations to handle first. In some cases, they will need to educate people about how to handle animal encounters rather than moving the animals. They must think critically about the situation to determine the best solution, as every case is different.
First Aid
Wildlife conservation officers must sometimes provide first aid for animals, and they should know how to administer first aid to people, too. They must know how to keep themselves safe while helping potentially dangerous animals.
Physical Fitness
The job can require a lot of walking, sometimes on difficult terrain, so it requires a high level of physical fitness. Wildlife officers often patrol large areas, checking permits of people hunting and fishing. During hunting and fishing seasons, they might spend long days on foot, as Ellen Shenk says in "Careers with Animals."
Communication
Wildlife officers must often find ways to communicate information to the public as well as to individuals, which requires strong communication skills. They sometimes need to speak publically at media engagements or education programs. They must also have strong writing skills, since they need to regularly prepare reports.