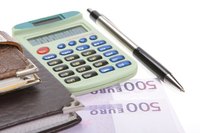 Generally accepted accounting principles are created, mandated and overseen by the Federal Accounting Standards Advisory Board. The GAAP guides accountants and lets them know the proper procedures for recording transactions, preparing statements and reporting account records. GAAP procedures can be split into two types -- basic accounting procedures and specific accounting procedures. Basic accounting procedures include ensuring reliability, recognizing revenue, using historical cost and matching transactions. Specific accounting procedures refine and clarify basic procedures and add details pertinent to different industries.
Reliability
Accountants must record all the company's financial information. To qualify as reliable financial information, the data must be backed by verifiable proof of sale. For example, an accountant for a coffee shop cannot record the purchase of a cup of coffee until someone actually buys the cup of coffee. The only transactions that accountants can record are transactions that are backed by objective evidence of sale. If it's a question whether an action qualifies as a sale, GAAP procedure is to review the reliability of the revenue.
Recognizing Revenue
Revenue recognition is the other half of reliability. In this procedure, accountants must recognize revenue when it's earned. Projected sales don't count and that type of speculation is best left to a marketing department instead of an accounting department. On the other hand, sales on credit do count as revenue, just not as cash. To maintain reliability, any necessary financial estimations need to be done by using FASB-approved estimation procedures.
Historical Cost
Historical cost means recording financial transactions at their original cost. Whatever is bought is always recorded at the price it which it was bought and whatever is sold is always recorded at the price for which it was sold. This procedure ensures uniformity in accounting records. Items that depreciate in value over time should still be recorded at historical cost, with the depreciation value subtracted from the recorded historical cost.
Matching
All businesses spend capital to increase their revenue, and accountants use GAAP procedures to determine revenue. In this GAAP procedure, accountants match business capital expenses with the revenue the expense generates. Once the revenue is matched to its expense, the accountant subtracts the expense from the revenue and this gives a number that indicates how much money has been gained.
Specific Procedures
Transactions that may or may not qualify as a sale, accounting estimations, depreciation rates and unmatched revenue are all issues requiring specific GAAP procedures that are different depending on the industry and other circumstances. There are many other GAAP procedures, but it's important to follow the basic policy as the foundation of all other accounting methods.