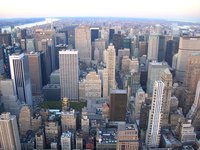 New York City's tenants have certain rights against illegal rent increases, depending on whether the tenant is subject to the city's rent control and rent stabilization laws or whether the tenant is renting an unregulated apartment. Most buildings in New York with at least six units are either rent-controlled or rent-stabilized.
Rent Stabilization
The New York City rent stabilization laws only allow landlords to raise rent in certain situations and only if the landlord's lease agreement allows the landlord to raise the rent. Landlords must first obtain a tenant's consent to the increased rate, and the landlord must offer additional services or improvements to the tenant's apartment justifying the increase. The landlord may also obtain permission from the city's Rent Guideline's Board to raise the rent, but the landlord must provide tenants with the benefits of improving the entire building justifying the increase. Landlords may also increase their rent if the landlord applies for the Division of Housing's permission to increase the rent based upon a showing of financial hardship.
Rent Control
Tenants that reside in New York City's rent-controlled apartments have a different set of rights against landlords increasing their rental fees. Landlords are limited to charging only a certain maximum base amount that can only be adjusted every two years. Owners can raise their rental fees every year by 7.5 percent until they reach the maximum base rent limit. Landlords must provide essential maintenance services to its tenants as required by the Division of Housing and Community Renewal. Landlords can also apply for an additional increase if the costs of fuel increase or the costs of services the landlord provides increases. The Division of Housing and Community Renewal will respond to the landlord's request with an approval or denial of the increase.
Waiver
Landlords can also use the rent stabilization rules to increase rent beyond the maximum base rate. Rents can be increased with the tenant's written consent only if the landlord increases the landlord's services or equipment for the tenant's apartment. Rental rates can increase with the Division of Housing's approval for the costs a landlord incurs to make a capital improvement in the entire building or when the landlord proves economic hardship.
Unregulated Housing
For housing not subject to New York's rent stabilization or rent control laws, the landlord can raise the rent as specifically allowed under the landlord's lease agreement. If the landlord is allowed to raise the rent during the tenancy period, then the landlord must provide tenants with at lease a 30-day notice, or longer if the lease requires it, that the landlord will be increasing the rent.
Considerations
Since laws can frequently change, you should not use this information as a substitute for legal advice. Seek advice through an attorney licensed to practice law in your jurisdiction.