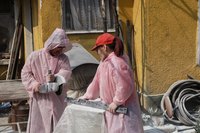 A lean and efficient workplace is the goal of any owner or manager, as this is the type of operation that runs smoothly and creates the greatest amount of profit. There is no single factor that will create this situation, but rather a combination of events that causes a workplace to work well or poorly. In order to change your workplace performance for the better, you need to take all of these factors into account.
Training
Training is crucial in every business in order to get the best performance from all your employees. If you don't already have a formal set of training guidelines, make it a priority to set these up immediately. Train every team member the same way, with the same methods and toward the same goals. When everyone is on the same page, your workplace will run more smoothly.
Management Style
If there is one factor that affects the performance of workers more than any other, it may be management style. Everything else being equal, the way a manager treats her team, the example she sets in dealing with customers and clients and the respect she gives to employees will set the tone for an entire shift. A manager with a poor attitude and no respect for her staff can bring down performance on the job site faster than almost any other factor.
Morale
Whether it's management style, safety issues, pay, scheduling or any other factor, employee morale affects workplace performance. Unhappy workers are not apt to give their best effort on the job, often not seeing the point. If they don't feel appreciated, they often do the least amount possible to get by on the job without being fired. Raise morale and team spirit to improve your workplace performance every time.
Equipment and Safety
From cash registers and staplers to heavy equipment, employees must have a safe environment and properly working equipment to do their jobs. If the equipment is broken and your team constantly has to make do and jerry-rig their tools, they can't do an efficient job on their shift. Workers may feel that management doesn't care about the business because of the shoddy maintenance, causing lowered morale and the resulting problems.
Scheduling
Scheduling employees is surprisingly more important than many managers and owners think. Not only does the weekly schedule affect team morale by giving requested days off or making team members work on undesirable days, but giving workers too many hours in a row or too many days without a break can cause burnout or make them overtired. This can lead to carelessness and an unsafe workplace.