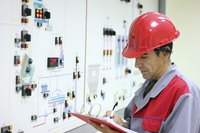 Power plant operators watch over the machines that generate electricity, and can control its distribution and generation with the flick of a switch. Though a minimum high school diploma is required, most employers prefer those with some vocational school training. Employees are subject to random drug tests and must spend several hours each year taking refresher courses.
Earnings
Power plant operators usually stand or sit in control rooms, with instruments that demand constant attention. They work on one of eight-hour or 12-hour shifts. These shifts rotate periodically so all operators share less desirable hours. This constant change of times can be both stressful and tiring. The median salary of power plant operators is $60,400 annually, with a range of $39,520 to $82,770. The median salary is $29.04 per hour, with a range of $19.00 to $39.79. This is as of May 2009, according to the Bureau of Labor Statistics (BLS).
Industries
The industry that hires the most power plant operators is electric power generation transmission and distribution, with almost a quarter of the 36,860 positions. They pay close to the median at $29.68 per hour or $61,740 per year. The highest paying employers are scientific research and development services, who use operators to help in analyzing and testing different methods of generating power. They pay $34.98 per hour or $72,750 per year, but only employ 170 operators, making them a difficult industry to break into.
State
The state with the highest concentration of power plant operators is Wyoming, with 1.28 operators per thousand workers. Here they earn a mean $28.27 per hour or $58,810 per year, which is higher than the national median. The state with the highest-paid positions is Washington, with compensation at $38.88 per hour or $80,780 per year. However, the concentration of 0.17 operators per thousand workers means that jobs here are more difficult to obtain than in Wyoming.
Outlook
The BLS states that jobs for power plant operators will decline by 2 percent from 2008 to 2018, which is worse than average for all occupations. Because power plants are being built more efficiently, they do not require as many operators as they did before. In addition, cost-cutting measures are producing even more methods of reducing employment. Prospects are best for those operators with good technical and mechanical skills, and strong backgrounds in math and science.