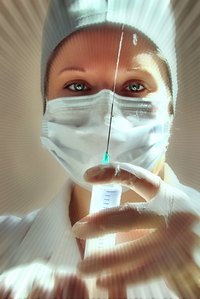 It takes a minimum of seven years to become a nurse anesthetist. These highly paid specialists must have bachelor's degrees, master's degrees and at least a year working in an acute care setting. They must also be licensed registered nurses and pass a certification exam for nurse anesthetists. The average annual salary for a nurse anesthetist in 2009 was $189,000 according to a study done for the CRNA Salary website.
Bachelors in Nursing
Most people entering programs to become nurse anesthetists have bachelor's degrees in nursing from an accredited program. They must be licensed registered nurses and must have at least one year of acute care nursing experience before being admitted into a Certified Registered Nurse Anesthetist program. Each program has its own definition of what qualifies as "acute care."
RN to MSN
There are a few programs that allow RNs with associate's degrees to take an accelerated course toward a CRNA. In some of these, students receive a master's degree without ever receiving the bachelor's. In others, they receive the bachelor's, but some courses overlap into the master's credits. These programs are extremely competitive and most require that students have a bachelor's in a related field to be admitted. Mayo School of Health Sciences and East Carolina University are two schools that offer this program. The website All Nursing Schools lists RN to MSN programs and their specialties, including nurse anesthetist (see Resource section).
Master's Program
Depending on the school attended, nurse anesthetist master's students must spend 24 to 36 months in graduate school both in classwork and clinical work. Master's programs focus either on nursing or allied health or biological and clinical sciences. The American Association of Nurse Anesthetists has a list of accredited nurse anesthesia programs (see Resource section).
Certification
The certification exam costs $700 according to the website Test Preview. It is a computerized test and students have three hours to take it. As with other certification exams, the number of questions can change. There is a minimum of 100, but if it is apparent that the student is passing or failing based on those questions, the test will end there. If the student's performance is borderline, there can be a maximum of 170 questions. If you fail the exam, you can retake it up to four times in the year following completion of your nurse anesthesia program, according to the National Board on Certification and Recertification of Nurse Anesthetists.