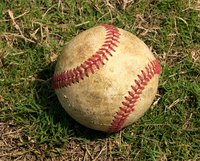 Major League Baseball players enjoy substantial salaries as a reward for the high levels of skill they exhibit. Indeed, escalating salaries are a source of considerable concern among baseball owners, according to Baseball Almanac. The league's highest-paid player, Alex Rodriguez, earned $33 million in 2010. Not every player commands such a high figure, but the average remains extremely high regardless.
Stats
Statistics to determine the average undergo a great deal of variance. While the league's elite enjoy figures of $15 million per year or higher, utility players and benchwarmers earn considerably less. Every player in Major League Baseball is guaranteed $400,000 per year as of the 2010 season.
The Average
The average salary for all players in Major League Baseball was $3.34 million in 2010. That's up from an average of $2.4 million per year in 2005 and $1.99 million per year in 2000.
Escalation
Baseball owners often complain about skyrocketing salaries, though with teams often valued in the hundreds of millions, it can be difficult to determine the veracity of such claims. Escalation, however, is beyond doubt. The average salary of MLB players per year increased by $1.3 million between 2000 and 2010. In 1990, the average salary was just $579,000: a little more than one-fourth of the 2000 average and less than one-fifth of the 2010 average.
Unequal Distribution
Another issue of concern to Major League Baseball is the disparity of average salaries among teams. According to USA Today, the average salary of the New York Yankees was $8.25 million in 2010, while the Pittsburgh Pirates averaged just $1.29 million for the same period. Some people believe that inflated salaries allow rich teams to cultivate the best talent, providing an advantage on the field that eliminates team parity.