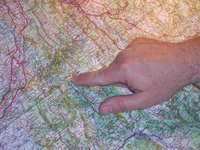 Most people are familiar with online interactive travel planners. Yahoo!, Google, Mapquest and a host of other sites have features for planning a road trip, including showing alternative routes and total mileage. The AAA Trip Planner goes miles further than that. Rather than needing a host of tabs open on your desktop to plan your trip, you can find everything you need in the Trip Planner. From hotel reservations to sightseeing side trips, you can find it all in one spot.
Interim Stops
The AAA Trip Planner makes it easy to add interim stops along the way on your journey. If you want to make your road trip a three-day leisurely drive, you can plug in stops along the way at the end of each day. If you look along the route and find an interesting site 20 miles east of your planned route, click and grab the travel line up to your site. AAA will immediately recalculate your trip to include that stop, showing new directions and new mileage figures.
Sightseeing Suggestions
The Trip Planner gives you suggestions for interesting stops along the way, to break up your road trip if you're not in a hurry. From parks and museums to seasonal festivals, you have the ability to add these attractions to your itinerary. AAA will then calculate your new mileage and give you new driving directions.
Useful Spots on the Road
On long road trips there are certain things you need to find, like restaurants, gas stations, hotels and motels and the occasional car repair shop. The AAA Trip Planner shows all of these spots along your entire route. Hover over each spot on the map and you will get a pop-up with the spot's address and phone number, along with details like menu types and food varieties, the number and type of rooms in each hotel and even the current price of gas at each filling station as of the previous day.
Reservations
This interactive trip planner is filled with links to every possible hotel and motel along your route. Click on the bubble for a hotel. When you find one with the price and amenities you like, click on the reservations tab. Fill in your reservation date and the number of people in your party, and you can instantly reserve a room right from the Trip Planner.