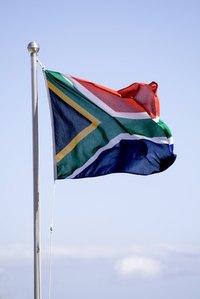 The history of the South African rand is tightly connected with the South African government, which used to control the currency until the 1990s, when private banks took over the currency. The rand replaced the pound in 1961. The rand was pegged by the South African government before the early 1990s to be strong, non-inflationary and stable. In this the government succeeded. As of January 26, 2011, the rand traded at 7.08 to the U.S. dollar.
South African Economics
Since the 1950s, South Africa has been the most successful economy in Africa. Up until the early 1990s, the economy was the most industrialized, the most advanced and the most significant to inter-African trade. By the late 1970s, South African economic growth, measured per capita, was growing by more than 10 percent a year, making it one of the world's most dynamic economies. In 1982, the South African economy grew per capita by almost 15 percent. The rand, controlled by the government, remained markedly stable until the mid-1980s.
The Rand
It was the strategy of the South African government in the 1960s and 1970s to value the rand under the U.S. dollar. In 1971, the rand was worth about 72 U.S. cents, going down to 67 U.S. cents by 1973, according to the American Federal Reserve Bank. Sanctions were put on this economy in the mid-1980s, which then saw the rand fall to 2.01 rands for U.S. dollar in 1985. Since that time, the rand has not regained its older value. Under the post-Apartheid governments, the rand has lost most of its value while unemployment has officially reached nearly 25 percent, according to the CIA.
The Rand Since Apartheid
Apartheid was dismantled in the early 1990s. To a great extent, the economy has largely disintegrated since that time, as many Dutch South Africans have left the country. The rand lost roughly half its value in the 1990s, but has rebounded since then, largely due to substantial foreign aid. From its historic low in 2002 of 11 rands per U.S. dollar, the rand has stabilized somewhat, reaching 6.1 rands per U.S. dollar in 2006.
The Rand in 2010-2011
South Africa has lost its competitive edge. Much of the infrastructure is old and decaying, and the South African elite has left the country or will not invest in a post-Apartheid economy. An Indian stock market analyst holds that the rand is currently undervalued, and hence has attracted the attention of speculators. The rand is controlled by private bankers in the post-Apartheid era, rather than the state, which was the norm under Apartheid. Since crime has skyrocketed over the past 15 years, one of the main issues for the future strength of the rand is whether investors have any confidence in the stability of the country and its economic future.