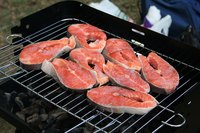 Employee engagement programs are designed to get more workers engaged in corporate activities. Corporate events are designed to allow employees to communicate and network with one another and allow different departments to mingle without the stress of work and projects. Since some employees choose to come to work and leave right when their shift is done, employee engagement programs are designed to introduce these employees to other workers, who may not be in the same office during the normal working hours, for example.
Company Picnics
One of the ways to engage employees in company events is to have picnics a couple of times a year. Company picnics allow employees to wear casual clothes, while hanging out and talking with other employees from different departments. The goal of a company picnic is for employees to interact with other workers, while relaxing in a non-corporate setting. The company picnic may include games or activities that allow all employees to engage in a single activity and become comfortable around each other, particularly managers or executives.
Employee Awards or Recognition
Employees may become more engaged in the work and company projects, if the hard work is recognized or awarded. You may find that the employees are working harder, if they know that a monthly employee award will be given to the worker who has accomplished the most throughout the month, for example. Giving recognition and rewards is another way of engaging your workers in the company.
Entertainment Outings
Once a hard work day has come to an end, some employers may arrange a night out to engage employees in a more social environment. Entertainment outings can include a trip to the movie theatre, an outing to the local bowling alley or even a large company dinner or concert on the company's bill.
Headquarters and CEO Communication
Another way to engage employees is to establish a level of communication between the employees and upper management. For example, the CEO or company executives at the head office could write a weekly or monthly letter to the entire staff. The letter could discuss how the work of every department is helping the business be successful.