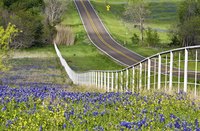 Bluebonnets bloom in fields and along roadsides in Texas each spring, prompting festivals, car trips and walking tours to see the state's official flower. A state highway department bluebonnet planting program dating back to the 1930s is why so many of the blue and white wildflowers grow along most major highways today, according to Texas State Historical Association. The flowers typically bloom in late March and early April.
Northeast Texas Trails
Ennis, which the Texas Legislature declared the "Official Texas Bluebonnet Trail," attracts thousands of visitors each spring to more than 40 miles of area trails marked on maps created by the Ennis Garden Club. The maps, available at the Ennis Visitor Center, pinpoint driving trails along country roads and highways from this Northeast Texas city about 35 miles south of Dallas. The garden club offers guided tours to groups.
East Texas Bluebonnets
The Texas Legislature proclaimed the East Texas community of Chappell Hill home to the "Official Bluebonnet Festival of Texas." The Chappell Hill Historical Society hosts a two-day event in early April each year with live music, children's games, more than 250 vendors and bluebonnet tours. Neighboring Brenham also issues bluebonnet trail maps designating about 80 miles of roads and highways in a region about midway between Houston and Austin.
Texas Hill Country Sights
State lawmakers handed official bragging rights to the Texas Hill Country town of Burnet as the "Bluebonnet Capital of Texas" because of abundant bluebonnet fields in this south-central Texas lakes and hills region. The hill country is loosely defined as the area between Austin and San Antonio. The Texas Hill Country Wildflower Trail crosses 10 communities from late March through early June to accommodate other native wildflowers. The trails begin in Burnet, where locals happily correct visitors who emphasize the second syllable of the name with the words: "It's Burnet, durn' it." Bluebonnet fans can also find the flowers growing on federal lands each spring at Lyndon B. Johnson National Historical Park about 50 miles north of Burnet. Fall and winter rains dictate how plentiful bluebonnets will be each spring, according to the National Park Service.
Wine and Wildflowers
The Texas Bluebonnet Wine and Cheese Trail is the creation of seven wineries in an east-central region of the state northwest of Houston. The wineries host wine and cheese tastings along mapped bluebonnet sighting roads and highways from the Bernhardt Winery in Plantersville and Cork This! Winery in Montgomery to Peach Creek Vineyards in College Station. The event is generally scheduled the last weekend of March and first two weekends of April.