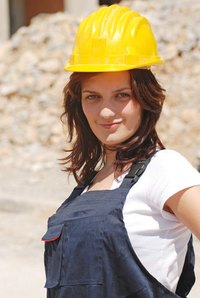 Workplace injuries can have a variety of causes, and can occur in a wide range of industries and types of jobs. The injuries can be obvious such as a broken bone or an accidental amputation, or hard to observe, such as psychological problems or repetitive motion injuries. The cause can be directly related to the job or can be related to an unsafe condition such as toxic materials that are improperly used or stored. In the U.S., the Occupational Safety and Health Administration (OSHA), part of the Department of Labor, sets safety standards and enforces rules designed to prevent workplace injuries.
Part of Body Affected
Workplace injuries can be categorized by the part of the body that is injured. Head injuries can be caused by falling or being hit by a flying or falling object. Neck and back injuries can cause pain, mobility problems and loss of sensation. Knee injuries are often not obvious right away because there are no nerve endings in the kneecap. Those working with heavy equipment can have injuries to their limbs or fingers or toes, including accidental amputations.
By Type of Work
Another way to categorize workplace injuries is by the type of work being done by the worker who is injured. Workers can be injured while driving, while working in a factory or while working with heavy equipment. They can have injuries from working in an office, such as repetitive motion injuries, or injuries from working in a retail or warehouse environment, such as lifting.
By Cause
Workplace injuries can be caused by overexertion, falls, the bodily reaction to activity or exposure, injuries from being struck by a flying or falling object or being caught in equipment. Falls can be a simple act of tripping on a rug that has a fold in it, or a fall from one level to a lower level which can be several feet lower or even more. They can be caused by accidents while driving or by extreme temperature exposure. An accident can be caused when machines malfunction or are poorly maintained, by workers who ignore rules and guidelines regarding safety equipment or safe handling of machines, when workers are tired or use poor judgment or from simple things such as a rumpled rug or a puddle of water on the floor.
Cummulative Effect
While many injuries are caused by a specific incident or accident, others are the result of the cumulative effect of something over a long period of time. Examples of this are exposure to asbestos or other toxic substances, and repetitive lifting injuries.
Sudden Accidents
Sudden accidents can happen any time, and many examples have been listed already. A seemingly innocent cut can get infected and lead to a painful condition known as complex regional pain syndrome (CRPS). A worker can overexert himself and have a heart attack caused by the exertion.
Psychological Trauma
Work can also cause psychological stress from overwork, abuse by a co-worker or discrimination because of her race or gender.