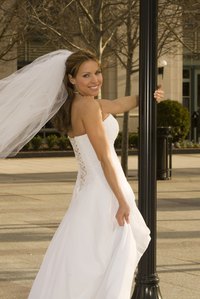 Bridal makeup and hair styling has become a booming business, as an increasing number of brides seek a professional's services in preparation for their big day. There are a number of ways to create a career in bridal makeup and hair styling. Beauty salons are often the go-to places for wedding makeup and hair styling. Alternatively, Internet savvy makeup artists and hairstylists might want to create their own personal website or advertise on an online directory.
Beauty Salons
Beauty salons often employ makeup artists in addition to hairstylists and aestheticians. For makeup artists and hairstylists looking for built-in business, a reputable beauty salon is a good option. Many salons offer bridal packages for the bride and the entire wedding party. Hairstylists and makeup artists with an interest in doing bridal preparation should contact local beauty salons with bridal packages on offer.
Freelancing and Internet Marketing
Hairstylists and makeup artists can choose a career freelancing. Freelancing is a good choice for people who enjoy setting their own schedules. Bridal makeup artists and hairstylists can sign up for an online directory. Once a profile is created, brides in a makeup artist's area can review the profile and services offered. Typically, online makeup artist directories are willing to promote an individual's business free of charge.
Setting Up a Bridal Business
For entrepreneurial types, setting up a bridal makeup and hair styling business is a smart way to go. A business specializing in bridal makeup and hair styling specifically might be the first choice for brides. In large metropolitan areas, there is likely to be no shortage of weddings and brides in search of professional services. Once the business takes off, additional makeup artists and hairstylists can be added to the staff and elaborate bridal packages offered.
Other Considerations
A bridal business can be run from a personal residence. An at-home bridal business will have a lower overhead. This option may also require permits and/or verification of certification. Thus, it would be wise to consult a local Chamber of Commerce or business guild.